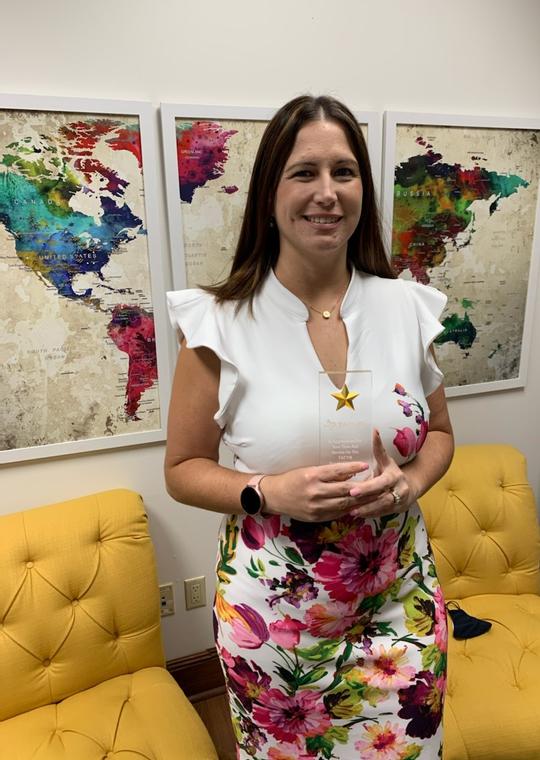 CONROE, TX - The Texas Association of Convention and Visitors Bureau along with Visit Conroe, is proud to announce Jodi Willard, Marketing Manager, has completed all disciplines required to become a Certified Texas Destination Marketer (TDM). This designation was awarded by the Texas Association of Convention and Visitors Bureau (TACVB) for completing the program of work requiring a minimum of six disciplines.

The TDM program is administered by the Texas Association of Convention & Visitors Bureaus and serves as an educational framework for marketing Texas as a destination for both tourism and group business. The program provides a structure for continuing professional development and is offered to tourism and hospitality professionals. The TDM program offers education and training in 12 disciplines including: Texas Heritage/Cultural Tourism, Group Servicing, Administration/Finance, Marketing, Technology, Tourism Sales, Sports Sales, Policy & Advocacy, Facility & Operations, Communications, Visitor Services, and Group Sales. The program demonstrates TACVB's strong commitment to strengthening the knowledge base of employees in convention and visitor bureaus and destination marketing organizations. Upon completion of the program, a professional TDM designation is awarded.

Jodi Willard serves as Visit Conroe's Marketing Manager. She is a Conroe native and has been with Visit Conroe for 3 1/2 years. Willard has elevated Conroe's tourism identity through the revamp of the Visit Conroe website and social media pages, the development of marketing materials, and a tourism marketing plan. She played a vital role in achieving Conroe's Music Friendly and Film Friendly Texas Community designations from the office of the governor; one of only 11 cities in the state to hold both designations.

"It is an honor to receive this certification and join the ranks of my distinguished colleagues throughout the state." Willard said. "Using the best practices learned in the TDM program will help me to promote Conroe through new and strategic methods."

The Texas Association of Convention and Visitor's Bureau is an organization dedicated to providing premier destination education and resources encouraging its members to be proactive and forward thinking in decision making and programming. TACVB places a strong emphasis on best practices in the tourism and hospitality industry with core values on education, focus and leadership.

For more information on Texas Association of Convention and Visitors Bureau, visit
https://www.tacvb.org/.