/

/

Spring Creek DAR presents Constitution Week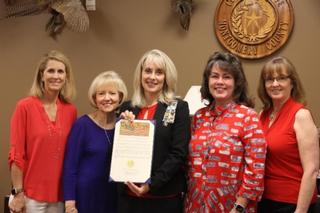 MONTGOMERY COUNTY, TX -- Officers of the Spring Creek Chapter Daughters of the American Revolution in The Woodlands proudly present the 2020 Constitution week proclamation signed by Montgomery County Judge, Mark Keough. Observance of Constitution week the week of September 17-23 was designed to encourage study and educate the public about the U.S. Constitution. DAR first petitioned Congress in 1955 to observe this week and President Dwight D. Eisenhower signed it in to law on August 2, 1956. September 17, 2020 marks the 233rd anniversary of the framing of the Constitution of the United States of America by the Constitutional Convention.

The National Society Daughters of the American Revolution was founded in 1890 to promote historic preservation, education and patriotism. Its members are descended from the patriots who won American independence during the Revolutionary War. With more than 185,000 members in approximately 3,000 chapters worldwide, DAR is one of the world's largest and most active service organizations. DAR members are committed to volunteer service having served more than 12.5 million hours in communities throughout the world during the past three years. To learn more about the work of today's DAR, visit www.DAR.org or connect with DAR on social media at facebook.com/TodaysDAR, twitter.com/TodaysDAR and youtube.com/TodaysDAR.