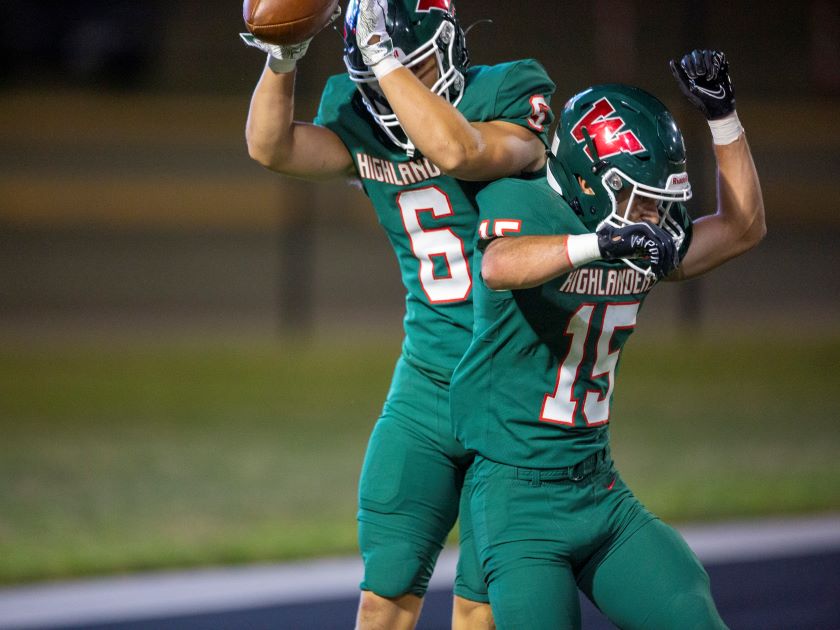 THE WOODLANDS, TX -- The Highlanders put on a show at Woodforest Stadium in their 2020 home opener on Friday night. A week after only scoring three points, The Woodlands dropped 40 on Lamar to avoid an 0-2 start to the season.

Coming into Friday night's game, cleaning up the turnovers, and getting back to playing strong defense were the key adjustments for week 2. The Woodlands checked off both of those goals and dominated the Texans on both sides of the football for four quarters.


The Woodlands got the start they needed with the defense forcing a quick three-and-out. On fourth down, a botched punt by Lamar gave the Highlanders the football in the red zone to start their first possession of the game. Three plays later, RB Jobarre Reed's
five-yard TD run
opened the scoring. After the defense forced another punt, the Highlanders went on a 13-play drive, featuring a
SportsCenter Top 10-worthy catch
from Ben Ferguson and ended with a
goal-line QB sneak
from Connor Dechiro to give The Woodlands a 14-0 lead late in the first quarter.
In the second quarter, Jobarre Reed
scored for the second time
on the night from seven yards out. Reed was the leading rusher in a large committee of ballcarriers with 50 yards on eight attempts and two TDs. RB Lane O'Brien (11 car, 45 yds) also found the end zone with an
impressive run
that left the defenders confused. O'Brien managed to avoid being taken to the ground by rolling over the body of the defender and popped back on his feet to score. The Highlanders took a 27-0 lead into the locker room at halftime.
The second half had a quiet start with both defenses getting stops, but with 6:19 to go in the third quarter, Ben Ferguson added another highlight-worthy catch to his resume. QB Justin Sheldon connected with Ferguson on a
14-yard TD pass
to extend the Highlanders' lead to 33-0. Ferguson recorded seven catches for 78 yards and a TD in the win.
The Woodlands defense had a strong showing on Friday night. They held Lamar scoreless for three quarters and consistently got off the field on third down (Lamar was 3/14 on 3rd down). To put a bow on a great night, linebacker Pablo Amaya picked off a pass at the four-yard line, returning it 96 yards for an
electrifying pick-six
.
The Woodlands
(1-1) bounced back in a big way after the disappointing loss in Week 1. As of now, the Highlanders are off next week. If no opponent is found, The Woodlands will return to Woodforest on October 16 to take on Hightower.
Friday's game was a
Woodlands Online Livestream
brought to you by Hal Watson Air Conditioning and The Woodlands Dental Group.