/

/

Two Women Authors in the Woodlands/Creekside Contribute to New Cat-Rescue Book
Two Women Authors in the Woodlands/Creekside Contribute to New Cat-Rescue Book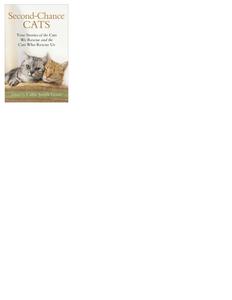 THE WOODLANDS, TX -- When Kelly McCardy-Fuller and Patricia Avery Pursley, first met in their Creekside neighborhood book club in The Woodlands, they never imagined they would become friends and contributing authors published side-by-side in the same book, the newly-released, SECOND-CHANCE CATS, True Stories of the Cats We Rescue and the Cats who Rescue Us, Revell/Baker Books. 9/2020 online and in bookstores.
Friends join 31 other authors to tell their true cat-rescue stories!
A collection of 33 humorous, harrowing, and true cat-rescue stories by authors across the country, including stories by The Woodlands own Kelly and Patricia, SECOND-CHANCE CATS is entertaining, heartwarming, and just might encourage those who have doubts about adopting one of the most beautiful creatures on earth.
A PEEK AT THEIR STORIES
Kelly writes of rescuing her colorpoint Siamese, Loki, from under a car in an office parking lot in Tomball, TX. The underweight cat with a skin condition and a BB embedded in his ear was quarantined in Kelly's powder room until he was completely healed. In the end, a beautiful, healthy Loki fit into Kelly's household of cats and dogs and distracted and comforted a tearful Kelly when her last child went off to college. Kelly realized that "the empty-nest thing wasn't going to be as hard" as she thought. 
Patricia writes about sheltering the small Manx, SugarBear, in her garage one freezing Texas night. She later adopted the bossy feline saying, "I was under new management, but it was a friendly takeover." SugarBear, sporting a rhumba-style walk and an entitled attitude, flirted openly with Patricia's future husband. SugarBear brought companionship, humor, and purpose to Patricia's life. Last Christmas, 2019, Patricia and her husband, catless at the time, rescued another entitled cat wandering in the cold in her neighborhood in The Woodlands.
Other amazing true rescue stories include a cat who traveled over miles of elevated highway over the Gulf to get to his owners in the Florida Keys, Old Mamma cat who was part of the feral McGangsters at a McDonald's, Lil' B, a playful talented feline, blind in one eye with an unusable leg, and Bear, the rescued cat that helped his owner overcome anorexia.
Cat-Rescue Statistics:
-Since its inception, Woodlands Animal Rescue has placed over 1,000 animals into loving homes.
-In Houston alone, it was reported that over 600 cats were taken in by BARC, self-proclaimed as the world's largest no-kill shelter, in 2019!