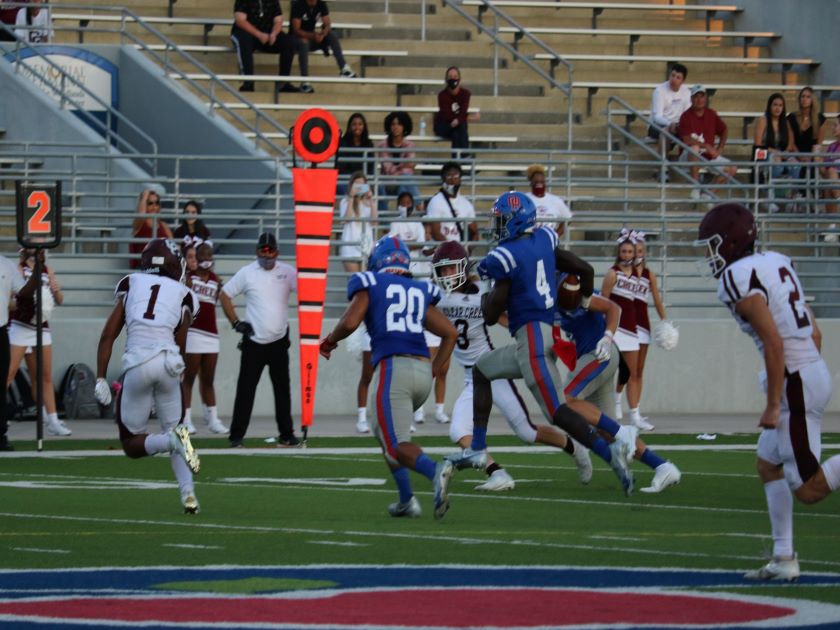 THE WOODLANDS, TX -- District 13-6A football finally kicks off this week! Thursday's matchup between the Conroe Tigers and Oak Ridge War Eagles at Woodforest Stadium will be the first of this week's three matchups.

Thursday's matchup pits two 3-1 teams against each other in a game that will give the winner a head start to making a return to the playoffs. Conroe comes into this game with wins over Kingwood, Summer Creek, and Fort Bend Dulles. The one loss was a 24-14 loss to Mayde Creek in Week 1. Oak Ridge has wins over Clear Creek, Stratford, and Humble. A 38-13 loss to Montgomery in Week 4 is their only defeat so far.

Conroe will attempt to start 1-0 in district play off of the strength of QB Jalen Williams' play. Williams has thrown for 648 yards through three games to go along with another 248 yards on the ground. Williams will likely look for his favorite target, sophomore WR Louis Williams III, throughout the night. Williams III has exploded onto the scene, averaging 111 yards per game with 5 touchdowns.

Defensively, the Tigers are giving up just under 15 points per game and have forced 9 turnovers. LB/DB Layne O'Dell leads the team with 37 tackles and DB Cameron Hilliard is the team leader in interceptions with two.

If the Tigers are victorious on Thursday, it will snap a seven-game losing streak to Oak Ridge. Last season's 42-35 loss to the War Eagles was the closest Conroe had come to breaking the streak in a few seasons.

Oak Ridge will want to increase their win streak to eight over Conroe. If they're successful, it will likely be due to a productive night in the run game. RB Alton McCaskill should be making his return to the starting lineup. McCaskill racked up about 400 yards of total offense before missing the next two games. In his absence, WR Landon Lightsey really stepped up as a playmaker in the War Eagles offense. Lightsey averaged 100 yards receiving and scored two TDs in those two games.

The Oak Ridge defense is giving up an average of 21 points per game through the first four games this season. They'll need to quickly find their form after giving up 38 at home to Montgomery in the final non-district game. Conroe will be this secondary's first big test.

Two district foes will square off with a lot on the line Thursday night. An earlier than usual meeting between the two could be just what Conroe needs to finally break the streak. Prediction: Conroe 31, Oak Ridge 21

Thursday's game will be a Woodlands Online Livestream sponsored by Woodlands Dental and RE/MAX. Kickoff is scheduled for 7 p.m.