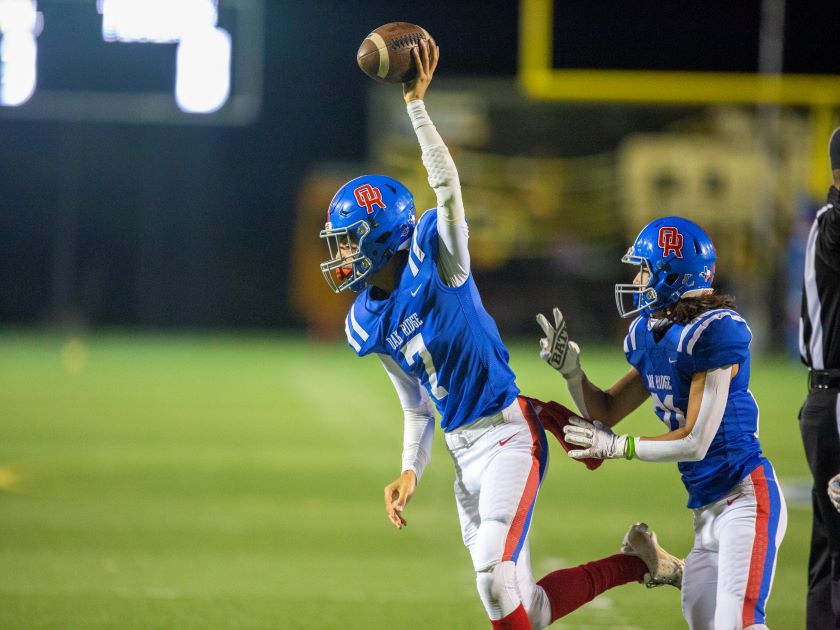 THE WOODLANDS, TX -- It's hard to lose a football game if you keep taking the football away from your opponent. The Oak Ridge defense/special teams proved this to be true as they forced 8 turnovers in the 38-14 win over Conroe.


Thursday night's performance by Oak Ridge was an excellent response to a less than stellar showing two weeks ago in their non-district finale against Montgomery. Coming into the district opener, Conroe's offense looked to be a good test for the War Eagles defense. Six fumble recoveries and two interceptions later, The Ridge defense passed that test with flying colors. DL Myles Terry led the team with two
fumble recoveries
. DB's
Dexter Green
and
Sammy Keith
each had an interception.
The dominant showing on defense opened the door for Oak Ridge RB Alton McCaskill to burst back onto the scene after missing the last two games due to injury. McCaskill racked up
184 yards of offense
and
four total touchdowns
in the win. RB Jahron Jonas also looked strong and added a
touchdown
late to cap off a great night for the War Eagles backfield.
Conroe had a rough night offensively, but QB Jalen Williams did connect on two 60-plus yard TD passes in the 4th Quarter to RB Jordan O'Neal and WR Louis Williams III.
The win extends Oak Ridge's win streak vs Conroe to eight games and gives the War Eagles a
1-0 start
(4-1 overall) in district play for the first time since 2017. Up next for Oak Ridge is a meeting with The Woodlands on November 6.
Conroe falls to 0-1, 3-2 overall. The Tigers will look to bounce back at home against Grand Oaks on November 6.
Thursday's game was a Woodlands Online Livestream sponsored by Woodlands Dental and RE/MAX.