/

/

Veteran Nonprofit Deceives Donors and Hurts Veterans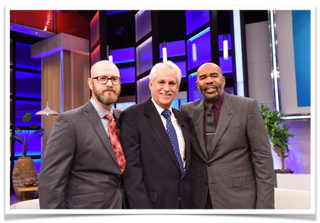 HUNTSVILLE, TX - A family of Veterans were promised a home to be built over two years ago but this has yet to materialize. Green Zone Housing out of Huntsville, Texas, operated by Mark Cook, committed to build a home for Mike Griffin and Don Henry in August of 2018. A few months later there was a commitment to build a home for Zach Griffin and his family as well. Large donations of money were given by several different individuals and organizations in the beginning. This includes a $10,000 check from the Steve Harvey Show after being featured on a Veterans Day special in 2018 and another $10,000 check from Operation Kindness. Thousands from other events were also raised. This family, along with the donors who continue to ask when these homes will be complete, have been lied to for far too long.
Money is unaccounted for and promised homes not built
Zach Griffin, a local Veteran, bought three small lots in a subdivision hoping to be able to build two small homes for both he, his wife and daughter, and one for his grandfather and brother. Zach himself is a Veteran of the Iraq War suffers from PTSD and other physical disabilities. His younger brother Mike, also an Iraq war Veteran, has a TBI (Traumatic Brain Injury) and relies heavily on his brother as his support system when he struggles with depression and anxiety. His grandfather, Don, lied about his age and caught the end of World War II. With the recent loss of his wife of 70 years, his failing health and having outlived both of his daughters, being near the last of his living relatives would help his situation immensely. All three live in different parts of Texas currently and in less than desirable living conditions.
In the last year Mark Cook has been doing project in efforts to "monetize" Green Zone Housing. He states in news articles and project announcements that these projects are bringing money into Green Zone but other than gilded attempts at generating more publicity, no major efforts from Green Zone have accomplished anything on the building project. The lots are empty and overgrown. They were wooded in the beginning and even the company who volunteered to clear the property was even robbed of its credit when Mark claimed in a Conroe Courier article that he spent $12,000 to have the property cleared.
Zach is seeking help. Mark Cook and Green Zone Housing offered a level of hope that would have drastically changed the lives of all involved. Zach takes care of Veterans, he takes care of people and this would have ensured that his family was taken care of so he could continue to do the things that make him whole. Instead, it further distressed and financially burdened Zach and his family while a non-Veteran profited from selling their story. Where is all that money? It doesn't matter. Green Zone has been reported by several individuals to the FTC, IRS and the Attorney General, but there is still a family of Veterans left in the wake of Green Zone. Zach is trying his best to get something done for his brother and grandfather. He's looking for home builders to help with plans and building, concrete company to put down foundations and drive ways, and hardware stores to help donate materials. A concrete company has already reached out to Zach and he says, "Hopefully, we can get close enough for me to somehow cover the rest".