/

/

The Woodlands Preparatory School Celebrates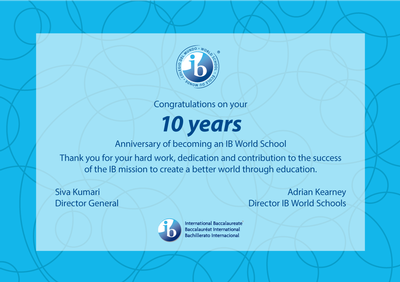 THE WOODLANDS, TX -- The Woodlands Preparatory School in The Woodlands, Texas is celebrating its 10th anniversary as an International Baccalaureate (IB) World School. This is a milestone for Woodlands Prep, which joins a legacy of IB World Schools around the world to reach this landmark.
10 years as an International Baccalaureate World School
The IB Primary Years Programme, Middle Years Programme and Diploma Programme are available to students to study at Woodlands Prep, which went through IB's rigorous authorization and evaluation process.
The Primary Years Programme (PYP) is studied by children aged 3 to 12 and offers an inquiry-based, transdisciplinary curriculum framework that builds conceptual understanding. The Middle Years Programme (MYP) is for students aged 11 to 16 and is a challenging framework that encourages students to make practical connections between their studies and the real world. The Diploma Programme (DP) is for students aged 16 to 19 and is comprised of six subjects including three DP core subjects.
Since the school first became an IB World School in 2010, the school has been supported by the IB organization that has worked closely with The Woodlands Preparatory School to implement the programmes offered to students.
Mr. Luis Ruiz, owner of The Woodlands Preparatory School, said: "We are proud to say we were the first school in the Houston area that implemented the IB continuum. Now we celebrate 10 years of offering top quality education to our community."
Adrian Kearney, Director IB World Schools, said: "The IB is proud to have The Woodlands Preparatory School as part of our global family of schools. It has been an inspiring provider of the IB programme[s] for the past 10 years, giving students the confidence and ability to reach further and be the best they can be in an ever-changing and unpredictable world. As an organization, the IB thanks the school for its commitment to fulfilling and delivering the IB's mission of education for a better world and look forward to many more years working with the educators at Woodlands Prep."
The IB's vision is to foster open and enlightened minds through its educational programmes for students between the ages of 3-19 years old. Each programme is tailored to equip students with the skills they need throughout life and encourages lifelong learning beyond their school years.