/

/

Recap of Stronger to Serve's Volunteer Day at Inspiration Ranch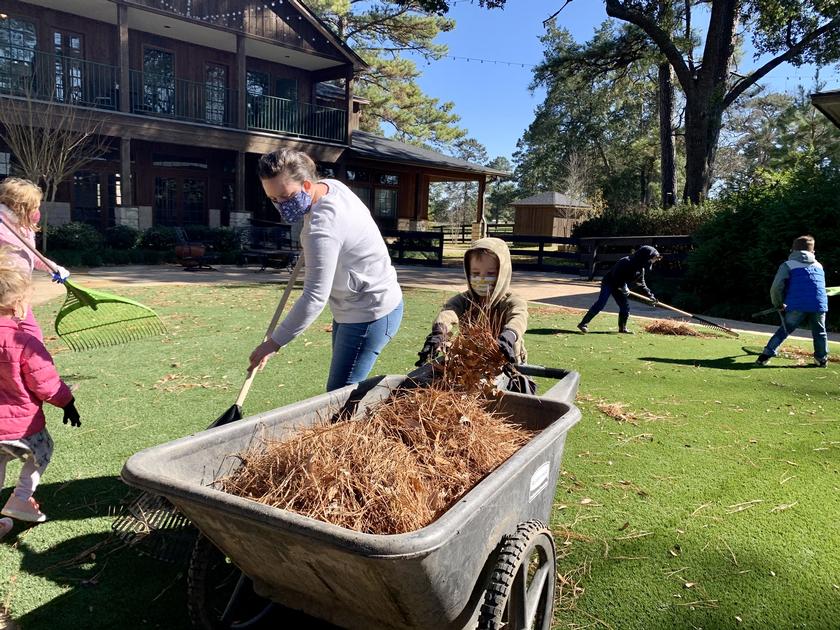 THE WOODLANDS, TX – Stronger to Serve held a volunteer day, January 15, at Inspiration Ranch, a nonprofit that offers Therapeutic Riding and equine-assisted therapy and activities to children, youth, and adults striving to overcome their physical, emotional, and social disabilities. Participants included moms and their children who each helped beautify the grounds. Together they raked leaves, filling barrel after barrel with pine needles until the lawn surrounding the main house was neat and picturesque.

Stronger to Serve's mission is to spread health and kindness to families and community members within Montgomery County by combining fun fitness with meaningful service. About halfway through the volunteer day, Teri Schmidt, Founder & Executive Director of Stronger to Serve, gathered the group to play a fitness game. The children chased one another in a game that helped teach them proper running form – while having a blast doing it!

"I always love seeing the families, even those with young kids, put so much energy into helping other kids like those served by Inspiration Ranch," Schmidt said. "Their joy, whether while serving, getting active with the fitness game, or feeding the animals, is so infectious!"

Equally as compelling was the kind and welcoming nature of the Inspiration Ranch staff members who worked side-by-side with the volunteers, making sure the kids were safe and having fun.

As a consolation for all their hard work, the group was given fresh oranges picked from the Ranch's tree, as well as a guided tour through the grounds by Vice President of Development & Communications, Sheila Greaver. The children were able to hand-feed baby longhorns, pet horses, and learn about the ins-and-outs of horse care.

"Our volunteers are the core of almost everything we do," Greaver said. "Volunteers come in and love on us all around. They provide so much support financially as we do not have the funding dollars to pay for all the services that volunteers provide. They allow us to really put our resources where we need it," she said.

Wonderful memories were made through Stronger to Serve's pairing with Inspiration Ranch, and an important lesson was learned by tiny members of our future generation: serving others makes for a great day!

Click here to visit Stronger to Serve's website.

Stronger to Serve events to look out for:

• RunKind - A family-friendly running club that meets every 1st and 3rd Saturday morning for a run & a service project.

• Amazing Kindness Race and 5K on March 27th at Southern Star Brewing Co.
- Form a team and do the team relay race through fitness & service challenges OR
- Run the chip-timed 5K as an individual (in-person or virtual)

Learn more about Inspiration at www.inspirationranch.org.

Inspiration Ranch's goal for 2021 is to double the amount of participants they're able to serve. This immense growth will take twice the amount of volunteers to accomplish. Volunteer opportunities include: Side Walkers, Horse Leaders, Office Volunteers, Gala Committee, Grant Writing/Research Volunteers, Event Volunteers, and Company Work Days. No horse knowledge is needed – volunteers will be properly trained.