/

/

Connect, serve, and get active with your family this summer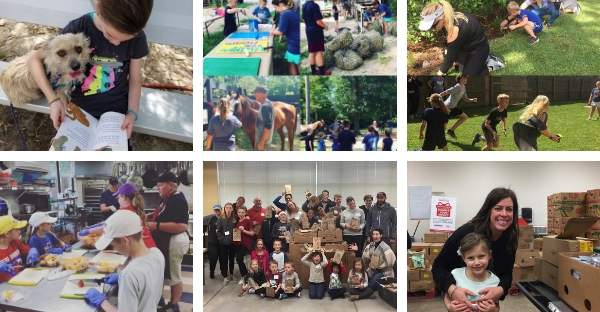 MONTGOMERY COUNTY, TX - Want to volunteer with your family but struggle to find age-appropriate opportunities? Struggle no more! Stronger to Serve already has 20+ family volunteering opportunities set up for you!

Not only do they make it easy on you (all you have to do is sign up and show up), but they specialize in making it fun and meaningful. Opportunities range in duration to fit into your summer schedule. Most are appropriate for ages 4+. Like helping animals? Prefer helping seniors? What to spend time cooking in a kitchen or food truck for people in need? Stronger to Serve does all of that and more. Not sure what your family likes? Try out something new and learn about the amazing organizations that serve our community.

Each opportunity includes hands-on volunteering, a fun game to get everyone moving, and learning about the community need and how your family is helping to meet that need.

You can view a calendar of opportunities and sign up at www.strongertoserve.org/fast.

Partner nonprofits are excited to work with Stronger to Serve to share their mission. They also know how important it is to make giving fun for both kids and adults.

"Inspiration Ranch is excited to be a part of Stronger to Serve's summer opportunities to bring further awareness to equine therapy and encourage others to break down stigmas and barriers, while celebrating inclusion and helping individuals strive to reach new goals!"—Kali Moxley, Inspiration Ranch Marketing & Events Coordinator.

Montgomery County Food Bank Volunteer Director of Volunteer Services shared why they're excited about working with Stronger to Serve: "We know how important it is to start kids off young when it comes to caring for others, and instilling a love for "giving back" to their community at an early age.  Learning 'empathic understanding' helps kids grow up to be kinder more compassionate people, and we are thrilled to be part of this incredible program with Stronger to Serve."

Stronger to Serve, a 501c3 nonprofit, was founded in late 2017 with the mission to inspire kids to develop into strong, compassionate leaders by combining fun fitness with meaningful service. Since then, the organization has coordinated over 40 family volunteering events with many nonprofits throughout Montgomery County. They also lead two after-school programs for grades K-8 that combine running with service-learning and they offer service-infused team-building experiences for youth sports teams.

Although the organization is young, they have already made an impact.

"Our family has been with Stronger to Serve for around 8 months now. My kids say it is truly one of the most fun and rewarding times they have during their week. As a family who strives in teaching on giving back, they also love to be able to integrate physical fitness into their volunteering and being active. My 14-year-old son has simply quoted when asked about Stronger to Serve that he "loves every minute of his time when he is volunteering with them". Stronger to Serve not only focuses on building relationships with the community we serve but also it helps fosters relationships with your own family." -Jennifer Crawford

More information about Stronger to Serve can be found at www.strongertoserve.org or on the Facebook page: https://www.facebook.com/strongertoserve/.