/

/

The Montgomery County Food Bank Receives $200,000 from Huntsman Corporation; Equivalent to a Million Meals in Our Community
The Montgomery County Food Bank Receives $200,000 from Huntsman Corporation; Equivalent to a Million Meals in Our Community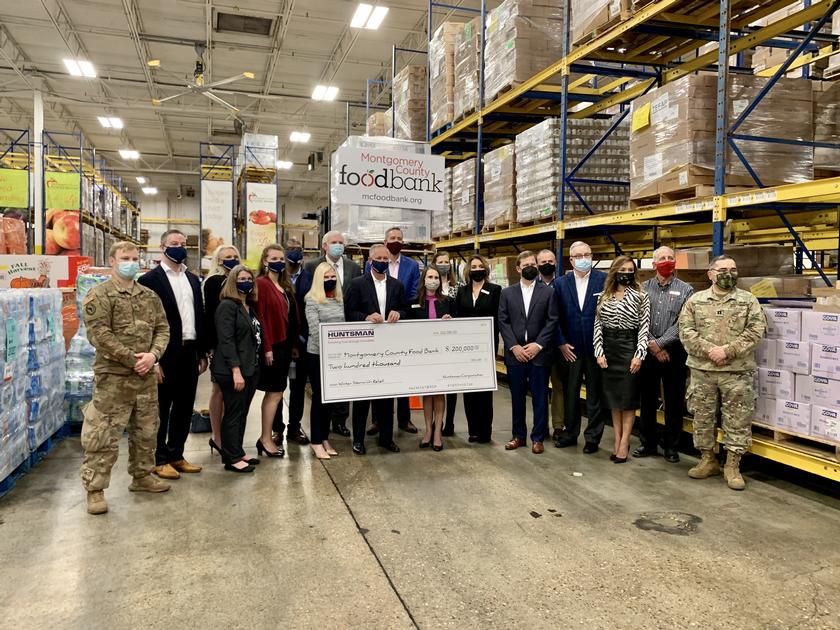 THE WOODLANDS, TX — The effects of last week's winter storm were widespread. Faced with the devastating impact to Greater Houston, Huntsman Chairman, President and CEO Peter Huntsman issued a "24-hour challenge" for associates and peer companies to raise $400,000 in donations to support the ongoing relief efforts.

"There were plenty of challenges and plenty of reasons to be skeptical as to whether or not this was to be accomplished," said Wade Rogers, Senior Vice President, Global Human Resources and Chief Compliance Officer for Huntsman and Board Director of The MC Food Bank.

People were working remotely and some didn't have power, yet the money began to come in, "very, very quickly," he said. Within one day the company had surpassed its goal, raising $600,000 in total. The Montgomery County Food Bank, Houston Food Bank, and Interfaith Ministries of The Woodlands were the benefactors of this incredible feat.

"This check for $200,000 is equivalent to a million meals in our community," said Kristine Marlow, President and CEO of The MC Food Bank, at the check presentation ceremony, February 26.

She said that the food bank received calls immediately to help provide food and water to the warming centers, as well as to serve the community that was, "just crying for help that their pipes were burst, they didn't have drinkable water."

Earlier this week, they distributed food and water at 'Bull' Sallas Park in New Caney, an area that was hit especially hard. "The distribution was supposed to start at three, we already had 400 cars waiting at three o'clock, they were in such need," Marlow said, highlighting the severity of the situation our community is currently facing.

"We promise that we're going to be good stewards of this [donation]," she said. "We work here at the food bank with an attitude of gratitude, and humility," she continued, because of the knowledge that the life-changing support that The MC Food Bank provides is due to incredible teamwork and partnership.

Click here to Donate to the food bank, or learn more about the organization. $1 equals 5 meals!

Visit, Huntsman.com for further information on the Huntsman Corporation.