/

/

The Cherokee Nation In The Woodlands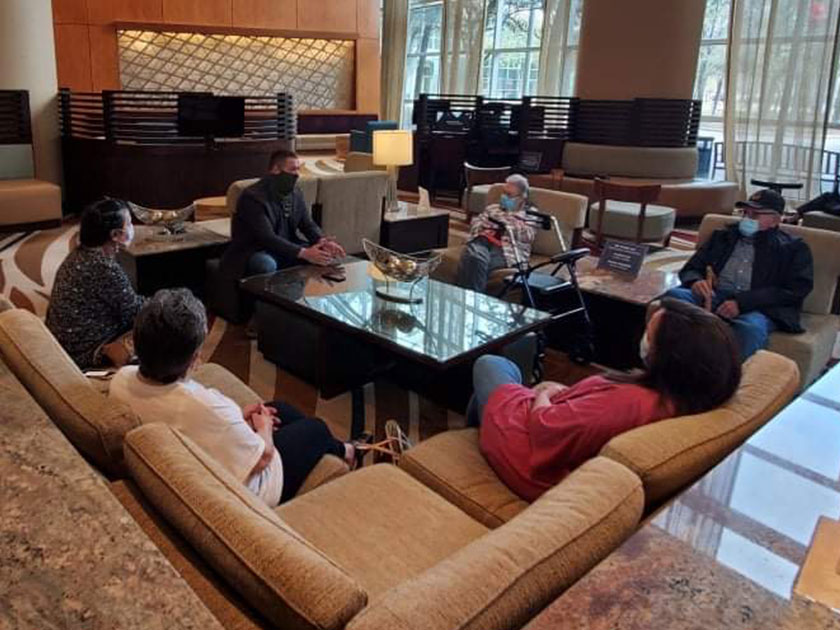 The Woodlands, TX - A meeting was held in The Woodlands specifically for Cherokee Nation citizens to discuss tribal issues affecting Cherokees living in and around the Houston area. Johnny Jack Kidwell, a tribal citizen from Oklahoma, is currently running for a seat on the Cherokee National Tribal Council and was in attendance to listen to citizen's tribal concerns and discuss possible solutions to those issues. Among others attending were members of the Cherokee Citizens League of Southeast Texas, a Cherokee community organization established in 2006. We caught up with Johnny Jack to ask him a few questions about the Cherokee Nation, its members living in Texas and their influence on Houston and The Woodlands area. It was an interesting conversation about the structure, influence and community outreach of the Cherokee tribe far beyond the borders of its nation. The Cherokee Nation is not only the largest Indian tribe in Oklahoma, where their headquarters is based in Tahlequah, but they are arguably the largest Indian tribe in the United States. A unique history of survival has defined the Cherokee people. They have worked through tough times including smallpox epidemics, the Great Depression, and even endured the pain of the devastating 1000-mile resettlement journey from Alabama, Georgia, Tennessee, and North Carolina to their current home of Oklahoma, known as the "Trail of Tears". Their story is exceptional and their culture not only touches Texas in general, but it reaches into our own community in The Woodlands.

Cherokee Nation Members in Texas

The relationship of the Cherokee people and Texas have deep roots. Sam Houston developed a good relationship with the Cherokee. He spent three years living with the Cherokee people and was adopted as a member of their tribe. He was also given the name of Kolana, which is the Cherokee word for Raven. That relationship he made when he was a younger man would continue for the rest of his life.

One of the first questions we asked Johnny Jack was how many members make up the Cherokee Nation as a whole. He said that there are around 380,000 total Cherokee Nation citizens. Approximately 141,000 or about one-third of their members live on-reservation or what is also referred to as their jurisdictional boundary in North Eastern Oklahoma. Roughly 240,000 members live outside of those boundaries and are considered At-Large citizens. The top states for Cherokee Nation member population is Oklahoma, California and Texas respectively. Oklahoma is home to around 240,417 Cherokee Nation members, California has the second highest population at 22,124 members and Texas rounds out the top three with 18,406 members. Their reservation covers a large area of North East Oklahoma. As you can see on the map below, the jurisdictional boundaries of the Cherokee Nation (top yellow section) cover a large area in the Sooner State and is situated close to the city of Tulsa.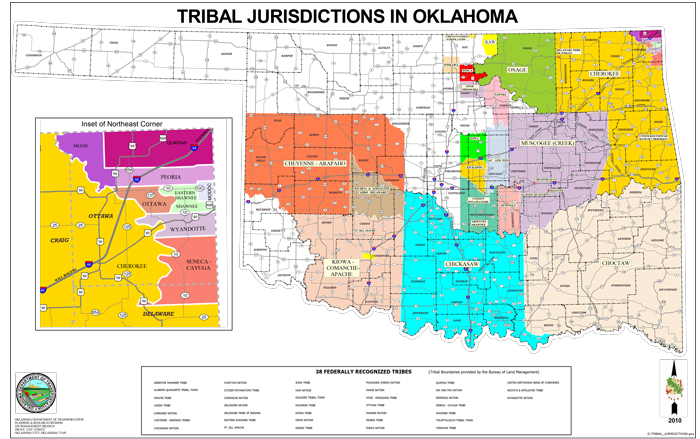 Cherokee Nation Elections

The Cherokee Nation elects 17 positions for the tribal council. 15 of those positions are to serve the members inside the jurisdictional boundaries. The 15 district reservation covers about 14 counties. There are also 2 additional seats that are at-large positions that cover the members living outside of the reservation. Council positions are elected for 4 year terms with terms overlapping, so elections are held every 2 years. 2021 is an election year with one position for what will be a vacant at-large council seat. Johnny Jack Kidwell is running for that position. Out of the 18,406 members living in Texas, around 3,000 of them are registered to vote in the Cherokee elections. The top two areas for Cherokee population in Texas is Dallas and Houston. June 5 is the election date, with a March 31 deadline to register new voters for the election.

How the Cherokee Nation Helps the State of Texas

The Cherokee Nation has developed numerous area community groups to help serve their tribal members. There are approximately 27 community groups currently operating across the country and 5 of them are located here in Texas. The Cherokee Citizens League of Southeast Texas is one of those groups and is located in Houston. These groups host events, have potluck dinners, offer Cherokee language classes, promote Cherokee culture as well as participate in local community efforts. There is a strong commitment to community and fellowship with the Cherokee people. Along with the work of local community groups, the Cherokee Nation itself lends its resources and money to help Texas in times of need. During the winter storm we experienced a few weeks ago, the Cherokee Nation sent truckloads of food and supplies to hard-hit areas of Texas to help people survive the cold and recover from what was easily one of the worst winter storms we have experienced in decades. One of the jobs that Johnny Jack would be doing would be working directly with these community groups across the United States.

Cherokee Nation Members in The Woodlands

There are many people living in The Woodlands that identify as members of the Cherokee Nation and who are allowed to vote in Cherokee Nation elections. One of the issues that was brought up about the tribe concerned how resources are allocated for on-site members of the Cherokee Nation versus at-large members. If you live within the jurisdictional boundaries of the Cherokee Nation, you are eligible to receive full member benefits. If you live outside of those boundaries, even if it is just a mile outside of the reservation, you receive very little benefits as a Cherokee Nation tribal citizen. Johnny Jack is looking at unique and beneficial solutions that the Cherokee Nation can identify that might provide opportunities to extend some benefits to members most in need. Currently more than 60% of the Cherokee membership live outside of the jurisdictional boundaries. Benefits include vehicle registration, health care, educational assistance, housing programs, social services, child care, food subsidies, property services and career assistance.

Cherokee Nation Resources

- Click here to learn more about Johnny Jack Kidwell

- Click here to learn more about the Cherokee Nation

- Click here to learn more about the Cherokee Citizens League of Southeast Texas and to sign to receive notification of upcoming meetings and events

- If you are member of the Cherokee Nation, please click here to register to vote


About Johnny Jack Kidwell

Johnny Jack is a citizen of the Cherokee Nation and is currently running for a seat on the Cherokee National Tribal Council to represent At-Large citizens. After more than 20 years of service in the U.S. Coast Guard, Johnny retired in 2011 at the rank of Lieutenant Commander. Johnny's career encompassed many diverse positions all over the world: operations afloat/ashore, personnel training and education, law enforcement duties and intelligence operations overseas. His first commissioned officer assignment was aboard CGC HAMILTON, a 378' multi-mission ship where he conducted numerous migrant operations and narcotics seizures in the pacific area. Afterwards, Johnny was selected for command and became the first commanding officer of CGC NARWHAL, a new 87' patrol boat based in Newport, CA where he conducted a wide array of homeland security missions. Most notably, he led the maritime blockade of Seal Beach Naval Weapons Station directly after the 9/11 terror attacks, which enabled USN ships to complete critical ammunition operations.

In 2004, Johnny was assigned to USCG Headquarters in Washington, DC as a Training Manager before moving to Camp Lejeune, NC in 2005 to become the Chief of Training for the USCG's Special Missions Training Center (SMTC). At SMTC, he led a division of 80+ personnel from multiple agencies designing and conducting maritime security operations. In 2008, Johnny was selected for detached duty as a Special Intelligence Officer and served in a classified position within the US intelligence community providing executive-level support to global maritime initiatives throughout the world. Johnny received numerous accolades in this position, including being credited with four (4) successful capture-or-kill (COK) operations bringing down high value terrorist targets in Southeast Asia in direct support of Operation Enduring Freedom (OEF).