/

/

Acoustic Rock Experience with Jackopierce This Saturday, July 3rd at Dosey Doe
Acoustic Rock Experience with Jackopierce This Saturday, July 3rd at Dosey Doe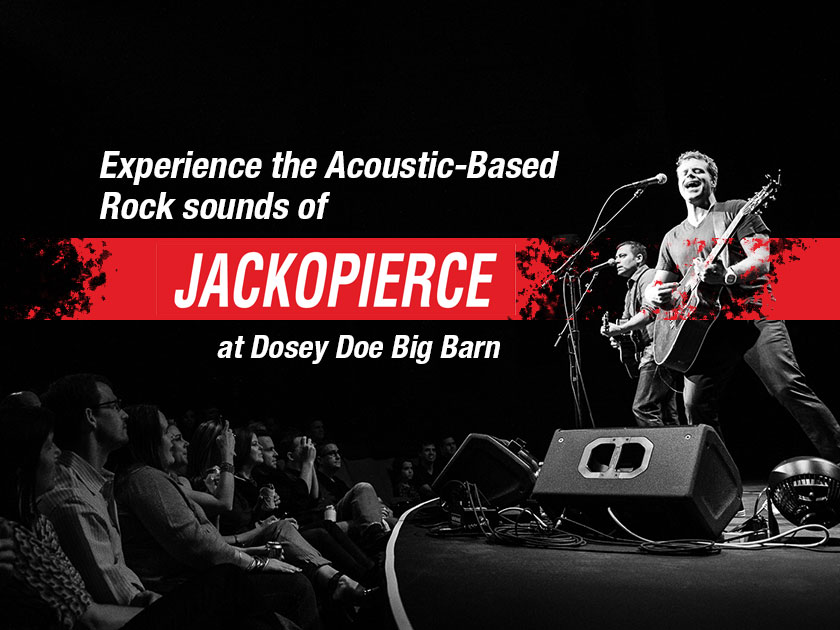 THE WOODLANDS, TX - If you like acoustic-based rock, you will enjoy an evening with Jack O'Neill and Cary Pierce at Dosey Doe on July 3rd. Known collectively as Jackopierce, Jack and Cary have been entertaining the world for over 30 years. They have shared the stage with artists such as The Dave Matthews Band, Counting Crows, Jewel, No Doubt and Matchbox20. Jackopierce has developed a huge fanbase and following with tours across the world that has covered three continents. Their start in music is unique and quickly grew from playing college campus' across the country to entertaining crowds of over 400,000. Conan O'Brien's late show invited them to play and they also played the Blockbuster Rockfest at Texas Motor Speedway. Famous musician, songwriter and record producer T-Bone Burnett produced their first album at A&M records and helped catapult them to new heights in the music and entertainment industry. We sat down with Cary Pierce and asked him some questions about their band, his and Jack's background, how they got their start and what to expect at the July 3rd concert at Dosey Doe.
'Even after 30 years I feel like we're just getting started'
Click here to purchase tickets to the July 3rd Jackopierce concert College Years
Cary told us the story of how he and Jack first met. They initially were acquainted in 1988 while attending Southern Methodist University as theater majors. Cary was from Connecticut while Jack was an Army brat coming to SMU from Texas. They both had an interest in music and both played various instruments and loved to sing. They decided to form a band while in college and used the first part of Jack O'Neill's name and the later of Cary Pierce's name to form the group Jackopierce. They started playing cover songs as well as writing songs and performing at campus concerts. This notoriety at SMU was really where the buzz around their group started. They were well received at SMU and Jackopierce quickly became a hit. They started making CDs and selling those. Fans started distributing those and word of their group continued to spread. Other college campus' around the country started becoming hosts to Jackopierce concerts.
Jack and Cary started making a name for themselves independently even before they ever signed with a major label. Cary mentioned that his band had already been touring coast to coast long before their first record deal. This level of success lead them to be courted by several label companies in 1992, and in 1993 a record producer, in particular, the famous T-Bone Burnett reached out to Jackopierce and ended up signing them to his A&M Records.
From that relationship, Jackopierce started touring the country as well as playing on three continents.
They were covered by various publications including People Magazine and Rolling Stone Magazine. They shared the stage with some of the most popular bands in music like
Matchbox20, The Dave Matthews Band, and Sheryl Crow
.
Their first album was the self titled Jackopierce and their first successful single was Late Shift.
We asked Cary how he would describe the music of Jackopierce. He told us that he considers their music more acoustic-based rock. There were many bands that influenced Jackopierce. Jack loved to listen to and admired
Bob Dylan, Willie Nelson and Neil Young
, but the artist who most influenced each was
Tom Petty
. Petty represented elements of each of their favorites combined.
Jack and Cary have released 12 albums together through the years, have toured the world and entertained hundreds of thousands of fans. But, we wanted to ask one obvious question about their background. We asked them what ever happened to the initial career in acting? They were both theater majors in college, so acting was something they enjoyed. We wondered if they ever circled back to that part of their life or if they ever invested any time into pursuing an acting career. Cary said that in 1997 the band broke up. Cary went back to the Dallas area and Jack moved to New York City in 1998 and pursued an acting career at the Bats Theater Company. Cary has participated in writing in theatre, but doesn't really pursue that field.
The continuing success of Jackopierce
Both Jack and Cary decided after 5 years that they would reunite the band. The last tour before they broke up saw sold out crowds. They decided to reunite in 2002 and over the last 9 years, Jackopierce has produced 5 new albums. Their new single called "87" can be listened to below, part of the full album coming in October 2021. They have been touring the country ever since.
What to expect at the July 3rd concert
Jackopierce is no stranger to Dosey Doe either. They have played The Woodlands and in particular, the Dosey Doe Big Barn for many years. Cary said that they will be singing a mixture of older songs and introduce fans to new songs they have written as well. In addition to the concert, they will also have merchandise on hand to purchase, including CDs and popular shotgun Willie and Astros inspired Jackopierce t-shirts. They also will have smaller custom Jackopierce guitars on hand to purchase. Jack and Cary will sign these baby guitars as well. This will be an enjoyable evening and you will get to experience what college students around the world has known for some time now, that the collaboration of Jack O'Neill and Cary Pierce's is one of the best concerts you will ever go to. You will definitely leave this concert a Jackopierce fan.
Click here to view Jackopierce's WebsiteAbout Dosey Doe Big Barn
This 165 year old historical structure has been saved for its current purpose. Originally built as a tobacco barn in Kentucky, the 300-600 year old growth oak and birch massive beams are the foundation not only for a beautiful room for also for great acoustics. It is a place where memories are made. No need to run from restaurant to music hall, as here you have it all.
Their entrees are 'cooked from scratch' based on the season, special offerings of purveyors with the type of music of the night in mind. Their task is to offer a meal that would be the reason in and of itself to visit Dosey Doe. The presentation is note worthy and the creations are featured in several Cook Books from Canada to Texas.
Nationally recognized artists from around the world dominate the calendar here: from Jerry Jeff Walker to The Rippingtons, Dave Mason to Lee Roy Parnell, Clint Black to Bela Fleck, Leon Russell to Spyro Gyra, Steve Wariner to Hayes Carll, Roger Creager to Mel Tillis, Manhattan Transfer to Gallagher... up very close and personal. Most artists will stay to have photos taken and give autographs after the show. Many very rarely do it anywhere but here and almost everyone says it is one of their favorite rooms to play.
'I have played them all, big and small, but I have never played a place that sounds as good as Dosey Doe!' - Gary P Nunn

'I will gladly tell anyone that Carnegie Hall cannot compete with Dosey Doe,' - Michael Martin Murphy

'One of my all time top 5 places to have played,' - Marcia Ball
Come early and enjoy the room. Filled with Americana artifacts from the late 1800s to the early 1900s, there is plenty to see. Your hands touching the hand-hewn 2000lb barn beams, your eyes filled with art, artifacts, signage from a simpler time, your taste buds excited from salad to dessert, and music so pure - up close and personal... all designed to 'Take You Away' and create a memory you will keep.
The BIG BARN is home to great causes such as RETT and SWING FOR A CURE; benefits where proceeds go to help children's illnesses. The BIG BARN is available for large wedding receptions, corporate functions, birthdays and anniversary parties.
Click here to purchase tickets to the July 3rd Jackopierce concert