/

/

Summer Bash at The Learning Zoo This Saturday; All Ticket Proceeds Go Towards Cochlear Hearing Aid for Local Elementary Student
Summer Bash at The Learning Zoo This Saturday; All Ticket Proceeds Go Towards Cochlear Hearing Aid for Local Elementary Student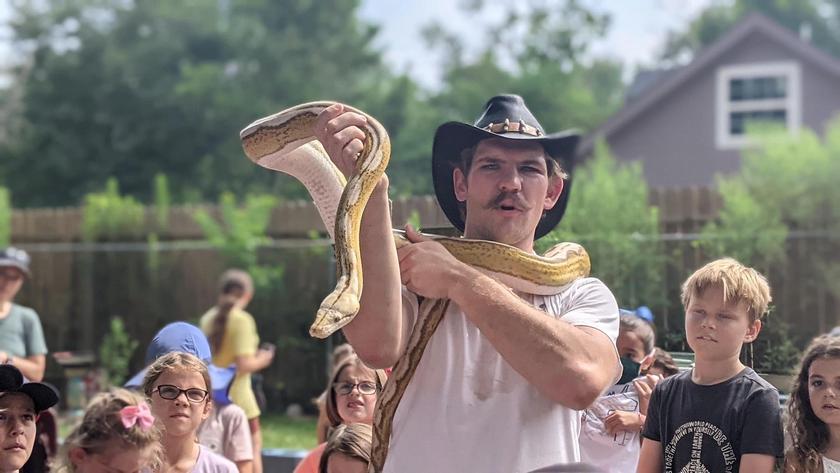 THE WOODLANDS, TX — The Learning Zoo is hosting a Summer Bash for families to enjoy, Saturday, August 14 from 11:00 a.m. to 7:30 p.m. Guests will have the opportunity to explore over an acre of beautiful gardens and animal habitats located in Conroe, Texas.

All of the ticket proceeds for this event will go towards helping a local teacher pay for her young daughter's cochlear hearing aid. This sweet nine-year-old girl was born deaf in both ears, and has had cochlear implants all of her life. The hearing aid she received when she was first born is giving out and needs to be replaced. With insurance, it will cost $3,200.

"We wanted to make a difference for this mother, and teacher, and make life a little easier by taking this huge financial burden off the family's shoulders, so they can focus on more important things and head into the new school year with a fresh start," said Zookeeper Drew Schulz, Owner of The Learning Zoo.

"Whether you are a teacher, a mother, or both, we recognize and appreciate the sacrifice and involvement it takes to raise the next generation."

What to Expect at the Summer Bash:
| Everyone is Invited! $12 Admission - Children under 3 are free |

The Summer Bash will be a fantastic day for the entire family - The Learning Zoo is home to many species of animals, including Nigerian dwarf goats, friendly Kune Kune pigs (the breed seen in Disney's Moana), two species of iguana (one of which is critically endangered), and a 10-foot python named Apollo!

In addition to their petting zoo, where guests can brush and feed farmyard animals like goats and pigs, they also have a tortoise feeding yard, where families can hand-feed their friendly tortoises lettuce.
 
Their reptile house will be open all day, offering the chance to see the smaller animals up close in an air-conditioned space. They will host Reptile Encounters throughout the day, with snakes, lizards, and other incredible ambassador animals ready to be touched, photographed, and held.
Reptile Shows at 12 p.m., 2 p.m., and 4 p.m.

Besides the animals, there will also be refreshments in their gift shop, and a local snow cone truck will be outside the zoo from 11:00 a.m. to 1 p.m. for all of the visitors to enjoy an ice-cold treat! 

"I know that we as a community can pull together and make this miracle happen for this awesome family," said Zookeeper Drew. "This school teacher has given back so much to the school district and her students. For 187 days out of the year, this teacher enriches and loves her students as if they were her own children. If we have 267 guests at the zoo for the Summer Bash, we can easily meet this goal. I think we can do it!"

- Follow this link for tickets & more info! -
If you can't make it, but would like to help, still purchase a ticket, as all proceeds go towards the hearing aid.