/

/

Milstead Automotive to Host Fall Kickoff to Raise Funds for Ford Elementary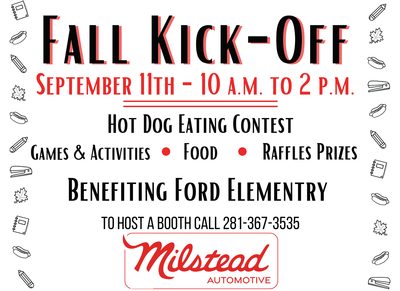 THE WOODLANDS, TX -- Milstead Automotive is hosting a family fun day on Sept. 11 to raise funds for Ford Elementary.

'We want to help offset some of the personal spending that teachers are having to do to stock their classroom,' Milstead Automotive President Amy Milstead said. 'This will be a great event to help raise money so students and teachers can have the supplies they need.'

According to a survey on June 2020 by AdoptAClassroom.org, during the 2019/20 school year, Pre-K - 12 teachers spend an average of $745 of their own money to supply their classrooms and 45% of teachers said that their personal spending went up during distance learning.
'Teachers take on a lot for their students,' Milstead Automotive Marketing Coordinator Caitlin Wills said. 'We want them to have all the resources they need so their students can be successful.'

The Fall Kickoff will include a hot dog eating contest, pony rides and vendors who will have carnival games and items for sale. There will be food for sale and a drop-off for donations and school supplies. All the donations and proceeds from food sales, vendor booth fees and raffle tickets will go to the school. There is no entry fee at the door.

'This will be a free day for families to come out and enjoy,' General Manager Jeff Collins said. 'We encourage everyone to bring school supplies or donate for the school but coming out and enjoying the festivities will be completely free.'

The event will be at Milstead Automotive, 29707 W Hawthorne Drive, Spring, Texas 77386, on Sep. 11. from 10 a.m. to 2 p.m.

About Milstead Automotive and Milstead Collision
For 50 years, Milstead Automotive has been proudly serving The Woodlands and Spring area. CEO and founder Dick Milstead started the company in his 2-car garage and grew the business with the help of his family. Now with 29 bays and two locations, The Milstead Automotive and Milstead Collision team continues to grow and dedicate their time and service to the community. Milstead Automotive also has the largest fleet of towing and recovery vehicles in Montgomery County with 24/7, 365 days a year dispatch. The company offers services for RVs and commercial vehicles, as well as mobile fleet repair. The company and its president, Amy Milstead, are devoted to causes and charities throughout the community and state. For more information visit www.milsteadautomotive.com or www.milsteadcollision.com or follow us on Facebook @milsteadautomotive or Instagram @milstead_automotive.