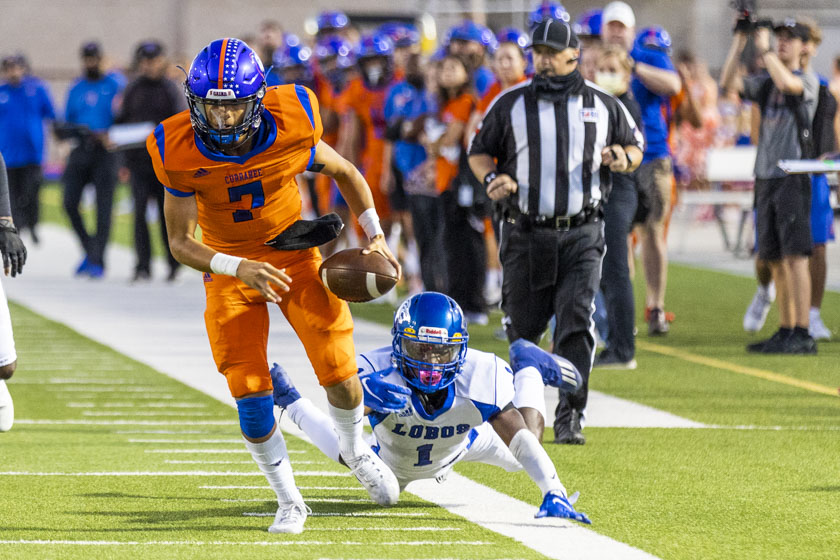 THE WOODLANDS, TX – Once again it was time for some Friday night lights with Grand Oaks facing the Houston Chavez Lobos. And once again week after week Grand Oaks comes out strong and ends up winning the game at the half creating scenarios for the "benchwarmers" to get up and play.


31 points in the first quarter! This game is nuts! #txhsfb pic.twitter.com/rAs6n3CfKJ

— Woodlands Online Sports (@WOLsports) September 25, 2021
Grizzlies head coach, Mike Jackson says each week that they played "sloppy" and that they need to clean it up before their game with College Park.
The teams Grand Oaks are sweeping under the rug were playoff contenders and some were area champions but a lot can change in 2 years. Many teams didn't want to face such a young team for the simple fact that it wasn't wort it. Coach Jackson along side is assistant coaches have molded the team into a top contender.
"We have things to clean up," said coach Jackson about the Grizzlies.
We haven't seen a top contender team face Grand Oaks yet and most say this was an easy off-season for them. Coach Jackson would agree so as the district games get closer Grand Oaks would need to practice harder and adjust. It's going to be a harsh reality of facing some top teams in the area, with Woodlands being a top 50 school in the state.
The CISD area doesn't have chump teams, rather teams that go up against top 10 teams in the state on off season. Plus, these teams have had programs around for many years putting Grand Oaks as the new kid on the block.
Facing Chavez this week was once again a walk in the park for Grand Oaks but Coach Jackson needs to keep his boys from having the mentality of winning every game. Chavez had its First first-down at the 3 min mark in the 3rd which wouldn't have happened 2 years ago. Even winning 50-6 wouldn't have happened but 2 years can change an entire team, positive and negatively.
After a week off Grand Oaks comes back for a district opener against College Park.