/

/

Ricky Skaggs & Kentucky Thunder in Concert at Dosey Doe, November 18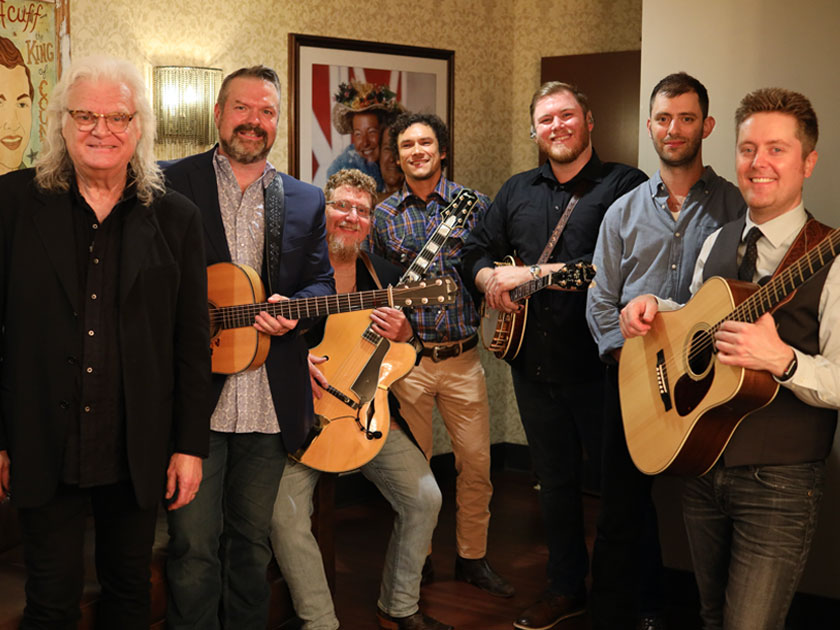 THE WOODLANDS, TX - It is impossible to think about bluegrass music without thinking about Ricky Skaggs. He is an entertainment icon that has revolutionized the music industry with his ability to adapt traditional bluegrass to mainstream country music. His talent has taken him to great heights and has garnered him numerous honors including being inducted into the Country Music Hall of Fame and the historic Grand Ole Opry. We sat down with Ricky Skaggs to talk about his start in music and the November 18 concert at Dosey Doe Big Barn.

Click here to purchase tickets to the November 18, Ricky Skaggs and Kentucky Thunder Concert.



Ricky Skaggs mentioned that he was born in Cordell, Kentucky. He said his father, Hobert Skaggs was a welder by trade and was an avid music lover. Ricky remembers first learning about music from his parents and through participating in singing at church at the age of 3. He said that he learned how to play musical instruments through his dad. His dad played the guitar and his uncle played the mandolin. Ricky said "My dad loved music more than anybody I ever knew. I don't think I've ever known anybody that loved music more than he did. And he made one of those inner vows. He had a brother that got killed in World War II in Guam and he played mandolin with my dad. My dad played guitar. My uncle played mandolin and so when he was killed, I think my dad just kind of made one of those inner vows that if he ever had a son that showed any kind of musical interest he would try to teach him how to play mandolin"

Ricky was a child music prodigy. When Ricky was 5 years old, he said that his dad bought him a mandolin from a pawnshop he came across during one of his job-related trips. It was a secondhand mandolin that cost around $5 at the time, but it worked and he loved it. He picked up playing the mandolin rather quickly and by the age 6, he had shared the stage with what many would call "The Father of Bluegrass", Bill Monroe. By age 7, he played with legendary performers, Lester Flatt and Earl Scruggs.

In his teens, he played with Keith Whitley, opened for Ralph Stanley and was eventually invited to play with the Clinch Mountain Boys. He later joined the group, The Country Gentlemen. At the age of 22, he formed his own band called Boone Creek. He later played with Emmylou Harris' band, providing vocals, arrangements as well as playing the fiddle and mandolin.

Ricky Skaggs is considered a leader in the new traditionalist music movement. This period in the 1980s included artists like Alan Jackson, Garth Brooks, George Straight and Vince Gill. They took the sounds of traditional country music and added a contemporary touch to it.

Ricky Skaggs eventually started a new band called Kentucky Thunder. During his country music career, Ricky Skaggs has played with the biggest names in country, charting 12 number 1 hits and winning over 30 awards, including 15 GRAMMY Awards, CMA Male Vocalist of the Year, CMA and IBMA Instrumental Group of the Year, and IBMA and GRAMMY Awards for Best Bluegrass Album. In 2020, he was awarded the National Medal of Arts award, the highest honor given to artists and arts patrons by the United States government.

You will get a chance to listen to Ricky Skaggs and Kentucky Thunder perform in a closeup and personal way at Dosey Doe Big Barn on Thursday, November 18.

Click here to purchase tickets to the November 18, Ricky Skaggs and Kentucky Thunder Concert.

About Dosey Doe

This 165 year old historical structure has been saved for its current purpose. Originally built as a tobacco barn in Kentucky, the 300-600 year old growth oak and birch massive beams are the foundation not only for a beautiful room for also for great acoustics. It is a place where memories are made. No need to run from restaurant to music hall, as here you have it all.

Their entrees are 'cooked from scratch' based on the season, special offerings of purveyors with the type of music of the night in mind. Their task is to offer a meal that would be the reason in and of itself to visit Dosey Doe. The presentation is note worthy and the creations are featured in several Cook Books from Canada to Texas.

Nationally recognized artists from around the world dominate the calendar here: from Jerry Jeff Walker to The Rippingtons, Dave Mason to Lee Roy Parnell, Clint Black to Bela Fleck, Leon Russell to Spyro Gyra, Steve Wariner to Hayes Carll, Roger Creager to Mel Tillis, Manhattan Transfer to Gallagher... up very close and personal. Most artists will stay to have photos taken and give autographs after the show. Many very rarely do it anywhere but here and almost everyone says it is one of their favorite rooms to play.

'I have played them all, big and small, but I have never played a place that sounds as good as Dosey Doe!' - Gary P Nunn

'I will gladly tell anyone that Carnegie Hall cannot compete with Dosey Doe,' - Michael Martin Murphy

'One of my all time top 5 places to have played,' - Marcia Ball

Come early and enjoy the room. Filled with Americana artifacts from the late 1800s to the early 1900s, there is plenty to see. Your hands touching the hand-hewn 2000 lb barn beams, your eyes filled with art, artifacts, signage from a simpler time, your taste buds excited from salad to dessert, and music so pure - up close and personal... all designed to 'Take You Away' and create a memory you will keep.

The BIG BARN is home to great causes such as RETT and SWING FOR A CURE; benefits where proceeds go to help children's illnesses. The BIG BARN is available for large wedding receptions, corporate functions, birthdays and anniversary parties.

Click here to purchase tickets to the November 18, Ricky Skaggs and Kentucky Thunder Concert.