/

/

Montgomery County Covid -19 Update for 11/24/21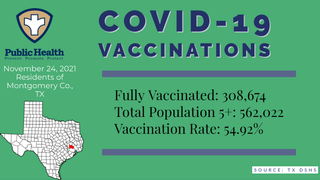 MONTGOMERY COUNTY, TX -- Montgomery County Public Health District, in conjunction with the Montgomery County Office of Homeland Security and Emergency Management, would like to provide an update regarding our transition from the Texas Health Trace database system to the NEDSS (National Electronic Disease Surveillance System) managed by the CDC. During this transition, we are still processing cases, investigating cases, reviewing deaths and hospitalized patients. We anticipate the transition to be completed by December 1. We will be working closely with the state through this process. Since we are not able to validate the accuracy of our data until the transition is complete, we will not be able to release COVID case counts.

If the transition is completed by December 1, DSHS will pull daily cases counts from NEDSS to update our county's numbers on the state's dashboard found at https://www.arcgis.com/apps/dashboards/45e18cba105c478697c76acbbf86a6bc. At the time of initial publication by DSHS, all coronavirus data is provisional and subject to change. There may be large fluctuations in active and recovered case counts due to counties reverting to DSHS calculations after of the transition to NEDSS.

We continue to encourage those who have not been vaccinated for COVID-19 to do so. People 5 years of age and above are eligible for the Pfizer vaccine. Booster shots are also available. You can find more information on vaccines here: https://www.cdc.gov/coronavirus/2019-ncov/vaccines/keythingstoknow.html?s_cid=10493:cdc%20covid%20vaccine:sem.ga:p:RG:GM:gen:PTN:FY21.


The Testing Positivity Rate for Montgomery County has decreased to 4%.

Source: UT Health, School of Public Health

SETRAC data for regional hospitalizations can be found here: https://bit.ly/3jwhdiV.

Do your part to slow the spread of COVID-19. The best way to protect yourself and those around you is to be vaccinated. You should also:



· Avoid groups of people.

· Practice social distancing.

· Wear a mask in public (over your nose and mouth) or with others who live outside your household. Never share a mask with others.

· Wash your hands or use hand sanitizer frequently.

· Disinfect surfaces in your car and around your home.