/

/

Rep. Toth Join s Legal Fight Against Biden's Vaccine Mandate - Partners with Texans for Responsible Government to File Amicus Brief
Rep. Toth Join s Legal Fight Against Biden's Vaccine Mandate - Partners with Texans for Responsible Government to File Amicus Brief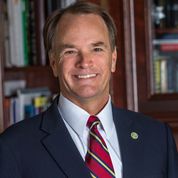 THE WOODLANDS, TX -- Today, State Representative Steve Toth (R-The Woodlands) announced he had taken legal action against the Biden Administration. Rep. Toth joined Texans for Responsible Government (TRG) to file an amicus brief with the U.S. Court of Appeals for the Sixth Circuit Court opposing Biden's vaccine mandate. The brief challenges the constitutionality of Biden's plan to enforce a vaccine mandate with the U.S. Department of Labor, Occupational Safety and Health Administration (OSHA). Without intervention by the courts, the mandate would affect 84 million workers.

OSHA released the specifics of the vaccine mandate in November. The mandate compels businesses with 100 employees or more to force workers to be vaccinated by January 4, 2022 or face weekly COVID-19 testing.

"Forced vaccinations sounds like a policy of Nazi Germany, not the U.S.A.," said Rep. Toth. "We're demanding that the courts overturn this unconstitutional mandate. I filed legislation every session this year to protect my constituents from unconstitutional vaccine mandates. One of my favorite bills would have given any military personnel discharged for conscientiously objecting to Biden's mandate the opportunity to guard Texas' southern border. Unfortunately, despite our best efforts, a law hasn't been passed in Texas to stop vaccine mandates. That's why I've called for a special session to address this and have started the Fourth for the Forgotten petition campaign to get a fourth special session set. Simultaneously, I've been working with my fellow House Republicans on this amicus brief for the Sixth Circuit. We have to do everything we can to stop this out-of-control federal government."

More than half the states, including Texas, have filed lawsuits challenging President Biden's vaccine mandate. These states are joined by pro-business, educational, manufacturing, faith, labor, staffing, and medical interests and advocates challenging the order. Last month, the 5th U.S. Circuit Court of Appeals in New Orleans issued a ruling for a stay on the OSHA mandate. With heightened legal advocacy in Texas and other U.S. states, TRG and Texas House Leadership hope to see the mandate overturned permanently.

"The cases now pending with the federal court of appeals are the ballgame," said Chris Britton, executive director of Texans for Responsible Government. "TRG, along with Representative Toth, stands solidly with the numerous businesses, teacher groups, states, and nonprofits fighting this federal overreach and assault on individual liberty."

Steve Toth is a small business owner representing South Montgomery County in the Texas House of Representatives. Rep. Toth is a proven fiscal conservative serving on the powerful Appropriations Committee. He has been a contributor on KTRH, American Family Radio, Real America's Voice News, OAN, Newsmax, ABC News, CNN and Fox News.