/

/

Lone Star College to host Open House April 12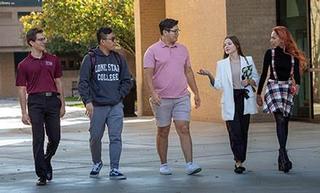 HOUSTON, TX -- Where to go to continue your education can be a hard decision to make. There are lots of options and it can be overwhelming to find the right choice. That's why Lone Star College is hosting an Open House to help answer your questions.

"I often hear stories about students feeling nervous the first time they step onto a college campus," said Stephen C. Head, Ph.D., LSC Chancellor. "That's a natural feeling, but attending an open house is an excellent way to learn more about Lone Star College in an informal and friendly setting."

The LSC Open House takes place Tuesday, April 12 from 4 to 7 p.m. at all the main college campuses and will include LSC representatives to answer questions about degree and certificate opportunities. Financial aid information will also be available to help students learn about options on how to pay for college.

LSC offers students access to high-quality, low-cost academic transfer and career training education that is close to home and affordable. The Open House will provide information about the many academic transfer degrees and state-of-the-art workforce and career training offered at LSC. Student organizations will also be on hand to share what campus life is like, along with the numerous clubs and intramural sports that are available.

Attendees can also learn about the Honors College at LSC which provides high-achieving students the opportunity to graduate with Honors distinction as well additional scholarship support.

"As a first-generation college student, the opportunity to conduct insightful research and have international internship opportunities would not have been possible without the Honors College at LSC," said Madison Terry, LSC Student. "They continually restore my confidence and motivate me to achieve my goals."

LSC-Online, the newest college in the Lone Star College System, will also conduct a virtual Open House to introduce students looking to attend remotely. Click here to RSVP for the virtual online Open House.

"Lone Star College has become the first choice for many students looking to further their education," said Head. "Studies show students who complete their first two years at a community college like Lone Star College and then transfer to a four-year institution are more likely to graduate with a bachelor's degree."

Lone Star College enrolls over 80,000 students each semester providing high-quality, low-cost academic transfer and career training education. LSC is training tomorrow's workforce today and redefining the community college experience to support student success. Stephen C. Head, Ph.D., serves as chancellor of LSC, the largest institution of higher education in the Houston area and has been named a 2021 Great Colleges to Work For® institution by the Chronicle of Higher Education and ranked 35th in Texas in the Forbes 'America's Best Employers By State' list. LSC consists of eight colleges, seven centers, eight Workforce Centers of Excellence and Lone Star Corporate College. To learn more, visit LoneStar.edu.