/

/

The Fidelity Investments The Woodlands Waterway Arts Festival put the ART in HEART for 23,000 people
The Fidelity Investments The Woodlands Waterway Arts Festival put the ART in HEART for 23,000 people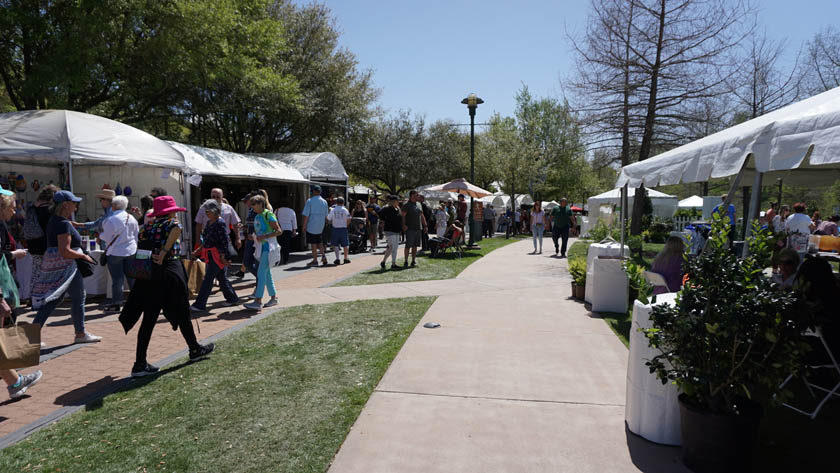 THE WOODLANDS, TX – The annual Fidelity Investments The Woodlands Waterway Arts Festival enjoyed a beautiful weekend under breathtaking skies, where record crowds of more than 23,000 people came to admire – and purchase – art pieces and crafts of all types at this beautiful brainchild of The Woodlands Arts Council.
Artists of all types met record crowds for a weekend of wonder
This Woodlands Township mainstay event has always been popular and glamorous, but this year seemed to bring an extra sparkle with it. With events that ranged from live music on the Town Green Park stage to the grand unveiling of a giant, city block-sized mural from renowned artist Alex Katz, and refreshments and foods provided by local dining establishments and Stella Artois, and Wine on the Lawn by Martha Turner Sotheby's, and special booths for emerging and featured artists alike, and hundreds of tents filled with amazing art, the festival outdid itself this year.
Woodlands Online managed to get a few minutes with some select artists. One of them was
Vic Lee
, creator of an art series called
The Saint Victor Diaries
, whose pieces were on silent auction during the event. Hailing from St. Johns, Florida – just south of Jacksonville – Lee brought a curious combination of eerie-yet-heartwarming paintings that relayed the inner thoughts of a skewed reality.
"Generally I'll pick out different themes that, on some of them, lead to the same direction without being one specific," he said, indicating a piece called
Whispers
that he alluded to the concept of prayer. "Then sometimes I'll rely on some of the old ancient stories, like the
Descent of Sophia
, which is the story of the soul journey. I take all the information that comes through the stories and find a different way to combine that into a particular image. My piece
When Pigs Fly
, for example, is based on biocentrism, which is the 'science' of the possibility that the universe is biological rather than just the particles of physics."
More can be found about Lee at
www.stvictordiaries.com
.
Another artist who presented eye-popping photographic work was Chicago native
Xavier Nuez
, whose work relied heavily on long-exposure shots and customized lighting setups. He explained the origins of his style. "As of 30 years ago, I started going into these gritty urban areas late at night with the goal of trying to make these ugly, scary corners beautiful, which was a big challenge," he said. "It took me some years to really figure out how to do that. Basically I had to bring my own lights and light these locations as though they were theatre sets; that was my mindset. I then set up a 30-minute exposure with my lighting. I light them in a very theatrical way. I found that I could make these scary places look like a fancy restaurant or a theatre set."
Nuez went on to explain the next phase of his display, which relied less on urban-blighted locales and more on natural beauty. "After 25 years of this – it was an obsessive body of work – and after having perfected the lighting technique, I felt I had gone as far as I could with this particular project. And, to be honest, I was tired of dealing with gangs and guns and scary moments that would fill a book, going into the worst parts of Compton, Chicago, and other places. I started going to nicer places and lighting locations that are nice to begin with, using that same lighting technique, and I've been thrilled with the results. So this is what I've been doing exclusively for five years now, shooting in nicer places."
Examples of Nuez' extravagant work can be found at
www.nuez.com
.
Closer to home, Irving-based Texas artist
Steve Riley
presented a more traditional, familiar, and inspiring black-and-white photo series. "I've been shooting pictures since 1970. I was in the theatre for a long time, and I worked in NY as a director and choreographer for 20 years. But I was always shooting pictures as a hobby," he said. "When I retired from the theatre, I opened a small photography business. I shot for entities like American Airlines, Frito Lay, and the Dallas Cowboy Cheerleaders calendar for seven years. And then when I retired from that, I looked in my archives and came across a few black-and-white prints that I had shot long ago and thought that they might sell. So I decided to start doing shows and ended up doing 35 of them in 2019 alone. The next year, COVID kept my appearances down to about 22, but the business itself doubled or tripled because of what I had learned."
Find out more about Steve at
www.steverileypictures.com
.
Warmly greeting his admirers was the festival's formal Featured Artist for this year,
Guilloume
(pronounce GHEE-jher-MAY), from Sandia Heights near Santa Fe, New Mexico, viewed by some as the art capital of the nation. The honor bestowed upon him this year is the culmination of a long and satisfying relationship. "I'd been doing The Woodlands Waterway Arts Festival since 2008, so off and on this has been my sixth or seventh time doing this show," he said. "This year, they invited me to come to be the 2022 featured artist. For me, it's an honor because I love all the concepts you have, bringing the community and art together. They're bringing something wonderful together, which is outstanding. And I also love their cause of raising money for the foundation so that they can provide support for various artistic endeavors. I feel very thankful and humble to be named the featured artist, although I believe all the artists here should be featured artists, because we all work so hard, and I truly believe none of us are better than the other; we're just different. And that difference comes in how we make what we love, and that love is what matters."
Judging from the number of people who entered the Featured Artist tent to merely shake his hand or take a photo with him, it was obvious that the artist's love was also reserved for his fans, and that love was reflected back to him. "When I went to art school, one of my favorite artists in 1970 told me, 'You don't need to know anything about art; art is the communication between the art piece and the viewer and the artist is out of the equation.' So I love that and I love to be here because Texas is one of my favorite states. I love this state because no matter where you go – whether it's Tyler or Abilene, Dallas, Houston, or The Woodlands – I've seen artists treated like kings."
The infectious nature of Guilloume's outlook on life and passion for his work is highlighted by the fact that he is one of the rare artists who works in two different mediums – oil paints and sculpture. In explanation, he said, "I've been painting for 47 years but sculpting for only 30. What happened is, one of the things I loved in art school in the '70s was sculpting, but I only took one semester. So when I moved to Santa Fe in 1992 somebody said they'd teach me the art of sculpting and took me under the wing. And, with what I learned, today here I am." Discover more about this featured, multifaceted artist at
www.guilloume.com
.
Woodlands Online extends its congratulations to everyone involved in this record-setting event, and is already counting the days until the next one, already slated for April 14-16, 2023.