/

/

MIAT Houston Opens Its Doors May 4, 2022 to Celebrate National Skilled Trades Day Along With Universal Technical Institute Campuses Across the Country
MIAT Houston Opens Its Doors May 4, 2022 to Celebrate National Skilled Trades Day Along With Universal Technical Institute Campuses Across the Country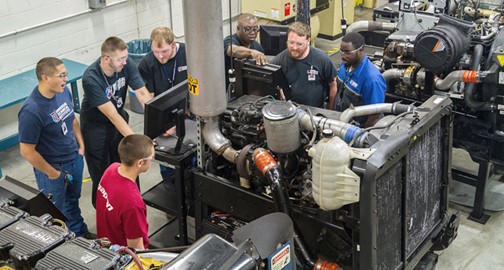 HOUSTON, TX -- Students of All Ages Can Learn About Pursuing Career Opportunities & Financial Aid Support at the Open House

WHO:
MIAT College of Technology and Universal Technical Institute are committed to helping prepare the next generation of technicians and skilled trade professionals to help fill these roles in the workforce.

WHAT:
On May 4 this year, MIAT is opening its doors to anyone interested in learning how to pursue a future in the industry. The event is open to students of all ages interested in a skilled trades career. These include Automotive Technology, Diesel Technology, Welding, Aviation, HVACR, Robotics & Automation, and more.

National Skilled Trades Day occurs annually on the first Wednesday in May. It's celebrated as a day to raise awareness about the importance of workers in the skilled trades and to highlight the pursuit of different career opportunities. It is UTI's opportunity to get the word out about the need for skilled trades workers and the benefits of learning a trade. Skilled trades are a rewarding and beneficial college alternative. In all, some 30 million jobs in the United States that pay an average of $55,000 per year don't require bachelor's degrees.

WHEN/WHERE:
Wednesday, May 4 from 3:00 p.m. to 7:00 p.m. CDT. The event will be held at the MIAT campus located at 533 Northpark Central Drive, Houston, Texas 77073.

WHAT:
Top 5 Reasons to Attend:
• Experience Firsthand Views of Our Fun, Hands-on Learning Environment
• Campus tours.
• Get One-on-One Attention With Instructors Who Will Answer Your Questions
• Engage in Networking Opportunities With Potential Employers at UTI
• Find Out About Financial Aid and Support Services

WHY:
Many different industries rely on the experience that skilled trade workers bring to their industries every single day, and there's a real demand for those with the right background. In fact, according to the Bureau of Labor Statistics, total technician employment is expected to exceed 1.7 million by 2030.

HOW:
Interested in attending? Register here. For additional questions, you can request more information here.
COVID-19 protocols will be observed.

This event is just one activity the UTI campuses have planned for 2022 Visit our Events page to view more. To learn more about the school's training programs or to schedule a tour, please visit https://miat.edu/campuses/houston-texas/.


1 https://www.uti.edu/blog/education/national-open-house-2022

2 https://www.uti.edu/blog/education/national-open-house-2022

3 The U.S. Bureau of Labor Statistics projects that total national employment in each of the following occupations by 2030 will be: Automotive Service Technicians and Mechanics, 705,900; Welders, Cutters, Solderers, and Brazers, 452,400; Bus and Truck Mechanics and Diesel Engine Specialists, 296,800; Automotive Body and Related Repairers, 161,800; and Computer Numerically Controlled Tool Operators, 154,500. See Table 1.2 Employment by detailed occupation, 2020 and projected 2030, U.S. Bureau of Labor Statistics, www.bls.gov, viewed November 18, 2021. UTI is an educational institution and cannot guarantee employment or salary. Updated on November 18, 2021.