/

/

Sorriso Modern Italian Kitchen - a Woodlands Waterway Wonderland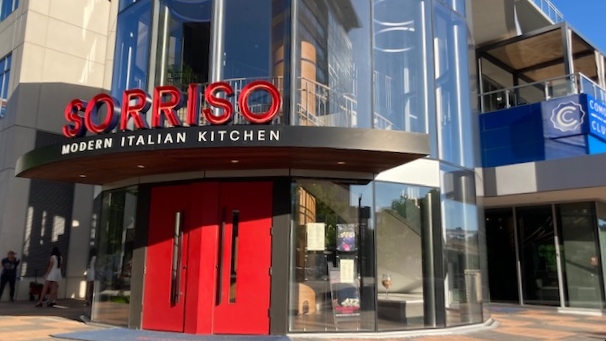 THE WOODLANDS, TX – There's a new menu and a new executive crew at the hottest Italian restaurant to hit The Woodlands. Sorriso Modern Italian Kitchen recently held a special sampling night to show off the culinary talents of Executive Chef David Buckley, Executive Sous Chef Brien Paskvan, and Director of Food and Beverage Operation Alexandrina Dumitru.
Lunch or dinner, food or drink, this trattoria is the tops
Sorriso is located inside The Westin at Woodlands Waterway, one of the main upscale retail and business hubs in The Woodlands at 2 Waterway Square Place. The property also includes the Como Social Club, home to some of the most 'caliente' Latin dancing in The Woodlands.
Entering through the glass front doors into a round foyer, you are immediately greeted by courteous staff who lead you to either the sprawling bar, the lavish dining area, or an intimate, secluded private dining room that can seat up to about ten of your closest friends.
Next to the bar is an old-school pizza oven that gives off an inviting warmth mixed with aromas guaranteed to invoke a Pavlovian response. The concept of right angles is kept to a minimum inside the restaurant, with curves and twists and hidden areas all moodily illuminated by unique lighting designs.
At the tasting event, Chef David explained the goal of Sorriso to provide modern twists to Old World cuisine. Before assuming his duties here, he was previously the executive sous chef at The Woodlands Resort, another local property of the Curio Collection by Hilton. Prior to that, he honed his skills for a decade in California.
From hand-tossed pizzas, paninis, and salads at lunch to a wide variety of dinner meals that will satisfy the palate of each family member, for the tasting event Chef David pulled out all the stops with some of the top choices his menu offers. Samples included:
Cocktails
• Boulevardier d'Italia
• Texas Mule
• Not So Old Fashion
• Wild Cosmopolitan
Appetizer
Affettati Misti
Chef's selection of Cured Meats and Cheeses with mostarda
First Course
• Burrata & Proscuitto
Prosciutto di Parma, Baby Arugula, Cherry Tomatoes, House made Focaccia
• Baby Beet Salad: Caramelized Yogurt, Valdeon Blue Cheese, Arugula, Candied Pistachio, Citris
• Tuscan Kale
Pine Nuts, Cured Egg Yolk, Pecorino, Lemon Vinaigrette
Second Course
• Crab Agnolotti
Corn Dashi, Seared Scallop, Red Sorrel
• Ricotta Cavatelli
Sausage, Broccolini, White Wine, Garlic, Pecorino
• Gnocchi Pesto
Third Course
• Chicken Parmesan Involtini
Mozzarella, Pesto, Ricotta Ravioli, Passata
• Ora King Salmon
Spring Peas, Polenta Espuma, Brown Butter Vinaigrette, Pea Tendrils
• Filet of Beef
Grilled Asparagus, Potato Fennel Puree, Porcini Marsala
Dessert
Tiramisu, Caramel Budino with Buttermilk Froth, Chocolate Tart
Wine
• Red: Qvinta Regio 2015
• Simone Capecci (Marche Italy)
Sorriso has varying hours of operation, so be sure to make your plans accordingly. Also, plan for a long dinnertime, because this is one experience that you won't want to rush. Learn more at
www.sorrisoitaliankitchen.com
.