/

/

VFW Post 4709 Receives Over 3,500 Lbs of Food Donation From the Primrose School of Conroe
VFW Post 4709 Receives Over 3,500 Lbs of Food Donation From the Primrose School of Conroe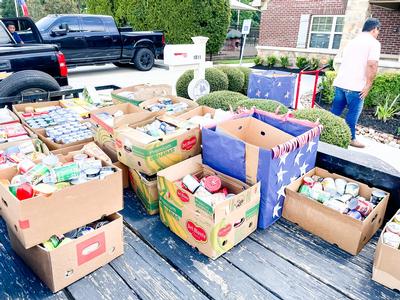 CONROE, TX -- The young students at Primrose School of Conroe, under the direction of Franchise Owner, Jennifer Millington, donated 3,758 pounds of food to VFW Conroe Post 4709. Millington understands that guiding children in character development is as important as their education. In support of this mission, the school partners with a local charitable organization. "We like to stay with the same organization for a few years to create continuity for the children, which allows them to form a relationship with the group," explains Millington. This teaches the students to give without expecting anything in return.

The impressive donation consisted of canned and other non-perishable food items. "We focus on non-perishables because the children can understand that. We explain that some people don't have enough to eat and we can do something to help," she says, adding that, when the drive was ongoing, many of the school's families would take their children to the grocery store and allow them to choose the items they would bring. Choosing a group that's local is important to Millington and Primrose School of Conroe because several school parents are active military or have grandparents and other relatives who served. Her own father is a veteran, so the VFW was a natural fit for this character building activity.

"We've done many drives for them like collecting gloves and jackets for the winter," Millington notes, adding that they started the food drive this past July 4th. VFW Post 4709 provides many services for homeless vets, at-risk vets, and veteran families. Donations of food, clothing, and other necessities, as well as generous financial gifts provide crucial support for the veterans served by Post 4709. The Primrose School of Conroe is committed to positively impacting the community now – through their charitable missions – and in the future, by fostering a love of service in the leaders of tomorrow.

Schedule a tour of Primrose School of Conroe today and meet the leaders in early education and childcare or visit our website today, PrimroseSchools.com!