/

/

The Woodlands Resort Curio Collection puts the 'holla' in 'holiday celebrations'
The Woodlands Resort Curio Collection puts the 'holla' in 'holiday celebrations'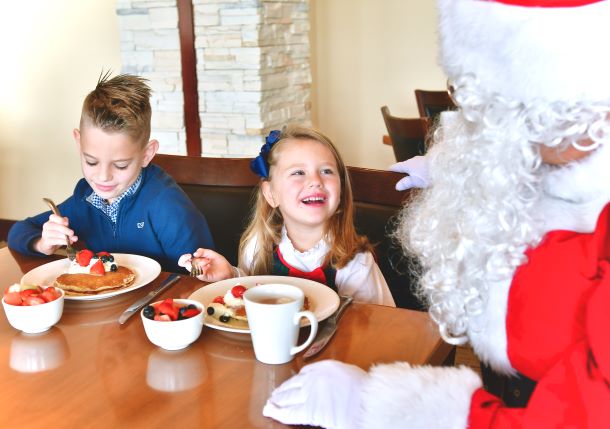 THE WOODLANDS, TX – The Woodlands Resort has geared up for the holidays with a series of events that are guaranteed to bring cheer to everyone who visits. Here's a sampling of what they're offering.
For young and old, active and passive alike, there's something for everyone
Thanksgiving Brunch
Maybe too many family members are coming in to too small a house, or maybe it's just you by yourself or with a partner enjoying some quiet time; but sometimes it's not worth the hassle of cooking on Thanksgiving. If that's the case, hit the Resort for an amazing holiday meal prepared by chefs who know what holiday traditions are all about. From 10:00 a.m. until 3:00 p.m. on November 24, let someone take the load off your cooking responsibilities.
https://www.woodlandsresort.com/dining/holiday-feast/
Santa Breakfast at Back Table
For the first three weekends in December (Saturdays and Sundays 12/3 to 12/18), families can dine with the jolly old elf himself for a breakfast open from 9:00 a.m. to 1:00 p.m. The Black Table has some of the best fine dining that The Woodlands has to offer, and this breakfast is guaranteed to sate stomachs and spirits alike. Tickets for participants aged 6 and up (through adult) are $28 each; kids age 5 and under get in for free. Call 281-364-6250 for reservations.
High West Whiskey Tasting
On Wednesday, December 14, there will be a whiskey tasting at Back Table starting at 5:30 p.m. Enjoy an exclusive tasting event and about the world of whiskey from industry experts and taste an array of High West Distillery offerings. All levels of whiskey enthusiasts are welcome to join, so come curious and leave with insider knowledge sure to impress! Keep the evening going with a delicious meal at Back Table Kitchen & Bar and your tasting will be complimentary (otherwise the tasting is $25 per person).
https://www.eventbrite.com/e/high-west-whiskey-tasting-at-back-table-tickets-441334221537
Christmas Day Brunch
Open your gifts and then head straight to the Back Table Kitchen & Bar for a Christmas Day Brunch from 10:00 a.m. until 3:00 p.m. on December 25. The delectable spread is priced at $75 for adults, $32 for kids ages 6-12, and is free for those five and under.
New Year's Eve Dinner Package
Make a night of it and ring in 2023 with The Woodlands Resort New Year's Eve Dinner Package. Packages start at $429 per couple and include luxurious accommodations and dinner at Back Table Kitchen & Bar with live music.
For more information on any of these events, call 281-364-6250or visit
https://www.woodlandsresort.com
.