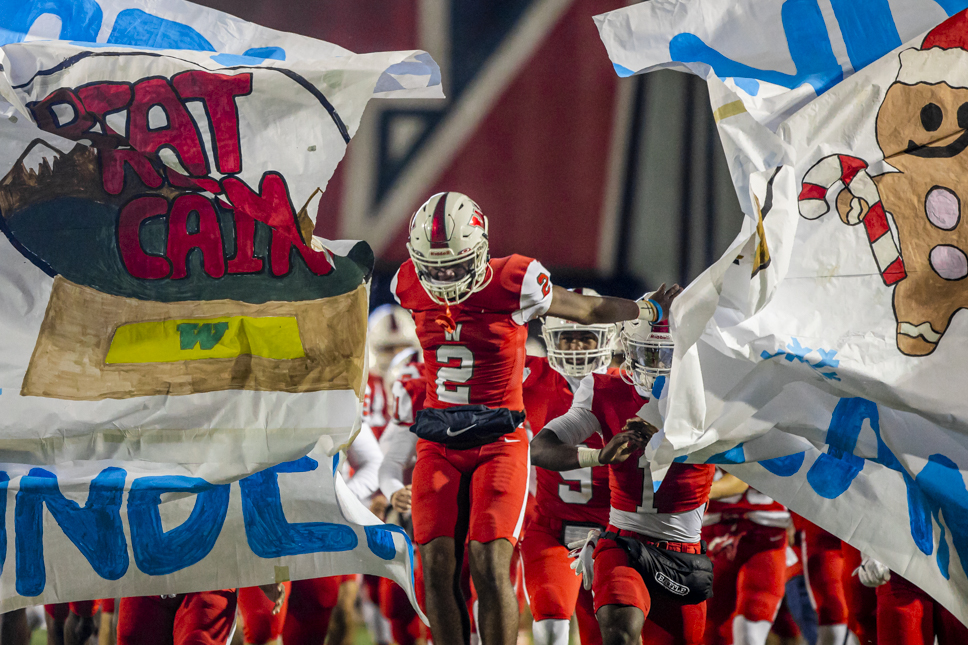 THE WOODLANDS, TX -- The Klein Cain Hurricanes traveled to Woodforest Bank Stadium to face The Woodlands Highlanders in the Area Round of the UIL Football playoffs on Friday night. Klein Cain is coming off a bi-district win over Cypress Ranch while The Woodlands took down Nimitz. Both teams look to advance to Round 3 against Duncanville next week.

Klein Cain won the coin toss and selected to receive but their drive was cut short by The Woodlands dominating defense. They came to play and Klein Cain would have to cut through the determination of The Woodlands defensive line.

Mettauer would connect with McShaffry for the first points of the game with just under 6 minutes left in the first quarter. And within the next minute Farrakhan Jr. would receive a Klein Cain punt and return it to the house to give the Highlanders a quick 14-0 lead.

With a forced fumble, The Woodlands would once again showcase their offense to Klein Cain. Mettauer would find Blakeslee for a 9-yard touchdown and give The Woodlands a 21-0 lead before the first quarter ends.

The second quarter was much like the first, as the Highlanders dominated on offense. Klein Cain struggled to contain Mettauer as he rushed for over 100 yards.

Mitchell and Williams would put another 2 scores on the board and give the Highlanders a solid 35-0 lead with just over 10 minutes left in the first half. Although down, the Hurricanes managed to return the Highlander kick to the other end of the field to the redzone. And with a small push Klein Cain found the endzone and put points on the board.

Before the second half Mettauer would run it in for a touchdown and Starzyk would kick one through the uprights to give the Highlanders a 45-7 lead.


The Woodlands dominates in the first half

Halftime
The Woodlands - 45
Klein Cain - 7 pic.twitter.com/qR6A6TuGnG

— Woodlands Online Sports (@WOLsports) November 19, 2022
In the second half, Klein Cain would turn up the heat after another 2 touchdowns from The Woodlands. Klein Cain would grab a touchdown and recover an onside kick the very next play. They would essentially capitalize on that drive making the score 59-21 with 3 minutes left in the third quarter.
In the fourth quarter it was Starzyk who would be the only one to put points on the board for either team. He would once again kick it through the uprights to give The Woodlands a 62-21 lead with just under 10 minutes left.
In the end, The Woodlands would kneel down to run the clock out and end the game against Klein Cain, 62-21. The Woodlands will move on to face Duncanville next week in Round 3 of the UIL playoffs.