/

/

Meals on Wheels celebrates 50th Birthday with a Night in Nashville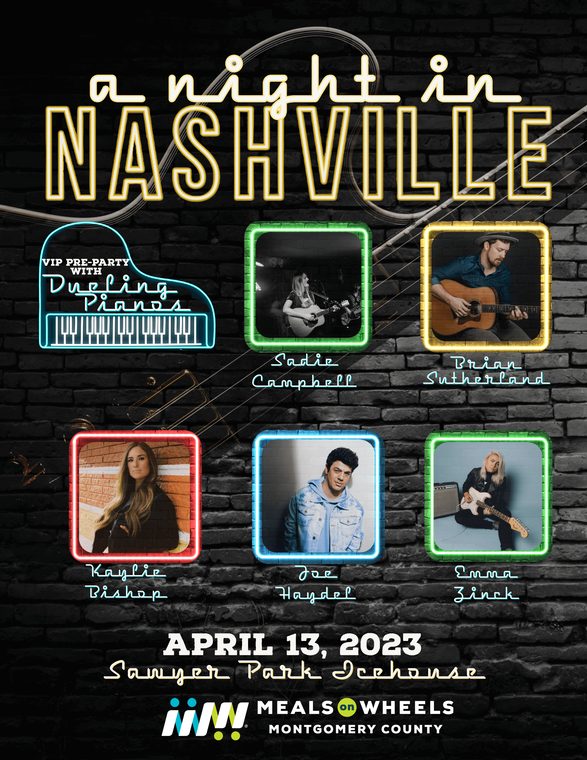 THE WOODLANDS, TX - Nourishing food delivered to homebound seniors has been a priority for Meals on Wheels Montgomery County (MOWMC) since 1973. The community is encouraged to celebrate the 50th Birthday of MOWMC at A Night in Nashville, Thursday, April 13 at Sawyer Park Icehouse in The Woodlands to fund services provided to our local seniors in the community.

They originally were recognized as the Montgomery County Committee on Aging, DBA The Friendship Center. The organization was created to support, advocate, and render services to senior adults in Montgomery County so that they could remain independent and vital members of the community. The Friendship Center focused on providing transportation, meal delivery, and congregate dining with planned activities. When MOWMC began operations in 1973, they delivered 125 meals per month. By the 90's they provided 20,000 trips to seniors through transportation services and served over 100,000 meals per year to homebound seniors at no cost to them. This growth pattern has continued and in 2022, MOWMC delivered over 250,000 meals while providing 18,321 rides to homebound seniors!

Currently, MOWMC is serving congregate dining at four locations-The Conroe Senior Center at Candy Cane Park, The Woodlands Community Center on Lake Robbins Drive, The Friendship Center in Magnolia on Friendship Drive, and in East Montgomery County at The Friendship Center at Bull Salas Park on McCleskey Road in New Caney. The centers provide seniors (not qualified for home delivery and yet mobile) access to hot, delicious meals prepared by chef, John Alton while enjoying time with other seniors.

It is an incredible honor to celebrate Meals on Wheels Montgomery County's 50th Birthday with the community," said Summer Day, CEO and President of MOWMC. "What began as a small, volunteer operation in a house on 3rd Street in Conroe has now grown to a commercial operation preparing 1500 scratch-made meals every day. We know the demand for our services will only increase as our service population continues to grow. We are grateful for the community that has always supported us and look forward to serving Montgomery County for the next 50 years!'

Celebrate the 50th Birthday of MOWMC at A Night in Nashville, Thursday, April 13, 2023, at Sawyer Park Icehouse starting at 6pm. The VIP Pre-Party that features Dueling Pianos, dinner, and an open bar presented by Waste Connections. Other sponsors include Exxon Mobile, Western Midstream, Jessica and Trey Brice, Howard Hughes, Waterway Wealth Management, Memorial Hermann The Woodlands, Telegistics, and Dr. Travis & Tracey Hird. Tiffany and Justin McClung are co-chairing the event for Meals on Wheels adding their own special touch to impress attendees. Learn more about sponsorship opportunities or additional information by emailing carrie@mowmc.org.

Waste Connections Vice President of Engagement Solutions, Michelle Little shared the reason why supporting Meals on Wheels is important to their organization. "We are grateful to be able to assist many seniors in our community with the Solid Gold Presenting Sponsorship for "A Night in Nashville," celebrating the 50th Birthday of Meals on Wheels Montgomery County. This amazing organization provides necessary nutritious meals to vulnerable, homebound seniors, along with curb-to-curb transportation for necessary medical exams. They truly provide more than just a meal… they even help to feed their pets. We have seen firsthand what a difference their programs make and are thrilled to be able to help."
Entertainers for A Night in Nashville include:

• Sadie Campbell

• Brian Sutherland

• Kaylie Bishop

• Joe Haydel

• Emma Zinck

"We are so proud of all we have accomplished in serving the Senior residents of Montgomery County over the last 50 years, that we want to celebrate with our community, in our community, by hosting an EPIC Birthday Bash", stated Carrie Watkins, Director of Community Development. "This is the perfect time to bring the community together to celebrate how far we have come, but also to prepare us for the next 50 years. Sustainability is critical for a service like ours, as our population grows and the needs grow with it and we have the tools and the talent to meet that need, but we need your support. Come celebrate with us at a Night in Nashville!"

MOWMC provides more than just a meal to homebound seniors. Volunteers provide a friendly face and a social visit as well as a safety check. These visits play a critical role in preventing depression and other health issues associated with isolation. Seniors look forward to their meal delivery which brings conversation and much-needed connection. MOWMC is also the only service to provide free transportation to lifesaving medical appointments, grocery stores, and other essential errands to seniors in Montgomery County.

Each $125 dollars donated feeds a senior for an entire month. MOWMC can deliver meals to a homebound senior for an entire year at a lower cost than just one day in a hospital or ten days in a nursing home. Donate online at https://www.mowmc.org/donate.

Since 1973, MOWMC has had a successful history of delivering meals to local homebound seniors, currently delivering 31,000 meals monthly. Volunteers deliver meals along ninety routes throughout the 1,000 square miles of Montgomery County. Additionally, MOWMC's curb-to-curb transportation service provides more than 17,000 rides to the disabled and seniors annually. With a mission to foster independence and maintain the dignity of each homebound senior by providing nutritious meals, transportation, and caring connections, MOWMC can always use additional volunteers and donations. More information about Meals on Wheels Montgomery County can be found at www.mowmc.org or on the Facebook page: www.Facebook.com/MealsonWheelsMC

Volunteers are always needed to help with delivering meals, events, prepare mailings, and assist with program needs. Start a food drive, decorate breakfast bags, create personalized birthday cards, or host an office workday at the Meals on Wheels office. Email Lisa Varholy, Volunteer Relations at Lisa@mowmc.org or view www.mowmc.org/volunteer/ for details. More information about Meals on Wheels Montgomery County can be found at www.mowmc.org or on the Facebook page: www.Facebook.com/MealsonWheelsMC.