/

/

Ardest Gallery Relocates to the Woodlands From Magnolia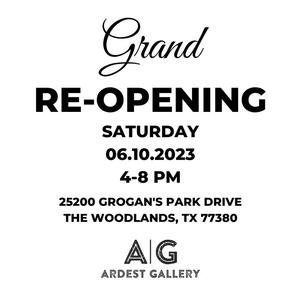 THE WOODLANDS, TX -- Ardest Gallery, a fine art gallery currently in Magnolia, TX, is set to relocate to The Woodlands, Texas, where they will host a Re-Grand Opening event for the community, on June 10th from 4-8 p.m.

"We are thrilled to expand and relocate our gallery to The Woodlands, Texas. The additional retail space affords us the opportunity to showcase work by more local artists. In fact, the new gallery location will be home to nearly 30 local 2D and 3D artists and artisans," said Julie Verville, Gallery Director and long-time resident of The Woodlands.

Ardest Gallery will now feature artwork from the following Texas artists:
• Gene Barron
• Edilia Bautista
• Sheng Kuan Chung
• Robyn Crowell
• Kristen Fergsuon
• Patti Gary
• Abigail Gomez
• Ann Greene
• Dan Hayes
• Carolyn Holloway
• Doni Langlois
• Melanie Wade Leslie
• Isabelle Kotara Lopez
• Ron Loyd
• Lauren Luna
• Jeff Lung
• Chalda Maloff
• Caroline Marcus
• Gloria Marta
• Shauna Martin
• Michele Patton
• Julie Sanderson
• Josh Spires
• Shelia Stokes
• Mary Torres
• Jodi Walsh
• Heiko Weiner
• Cecile Wright
• Nora Verville

"While the gallery will showcase works by these artists on an ongoing basis, we will also host monthly curated exhibitions, live music, workshops and classes geared toward all skill levels, including local middle school and high school students, readings and signings offered by local literary artists, artist talks and more," shared Verville.

"One of the offerings we are most excited about is our concierge art consultancy. For local residents in search of the perfect piece(s), our gallery experts will pay an in-home or in-office visit to determine style and budget, source possible works for consideration, then bring selected works for in-person viewing," remarked Verville, Gallery Director and Curator. "We also partner closely with top interior designers in a similar process."

The Re-Grand Opening is currently scheduled for Saturday, June 10th from 4-8 p.m. at 25200 Grogan's Park Drive. During our Grand Opening, we will also be unveiling a solo exhibition by award winning Houston artist Robyn Crowell, entitled "Femme & Flora". This event is free and open to the public.

About Ardest Gallery
Ardest Gallery is a fine art gallery located in The Woodlands, Texas representing Texas 2D and 3D emerging and mid-career artists.