The Kelsey Research Foundation Raises More Than $450,000 at the 29th Annual Golf Classic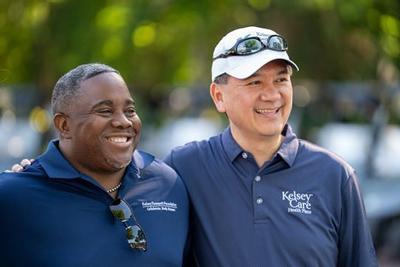 THE WOODLANDS, TX -- On Monday, May 1, the Kelsey Research Foundation welcomed 300 golfers and volunteers at The Golf Trails of The Woodlands for their 29th Annual Golf Classic tournament. This annual outing raises funds to support Kelsey Research Foundation's mission to improve the quality of patient care and health outcomes through research and education. Since its inception, the golf tournament has raised almost five million dollars for the Foundation's research programs.

The event began with breakfast at 8:30 a.m. and included golfer games, gifts, a silent auction and a 19th Hole Luncheon. The major sponsors of the tournament included Gamma Construction, LabCorp, NewQuest Properties, Kelsey-Seybold Clinic, KelseyCare Products, Welltower, Epic, TPG and Grant Thornton.

'The 29th Golf Classic was a record setting success for Kelsey Research Foundation thanks to the generosity and support of the sponsors and the golfers who attended, especially our title sponsor Gamma Construction," said Ashley Alexander, President and Chief Executive Officer of the Kelsey Research Foundation. "The success of the tournament will allow KRF to continue growing and increasing access to innovative health research for more Houstonians."

Kelsey Research Foundation is dedicated to advancing medical research, specifically in the areas of the gut microbiome and providing health education programs to the Houston community. As the non-profit research affiliate of Kelsey-Seybold Clinic, the Kelsey Research Foundation organizes, facilitates, and implements collaborative research between Kelsey-Seybold Clinic and institutions of the Texas Medical Center and beyond. For more information on The Kelsey Research Foundation please visit www.kelseyresearch.com.