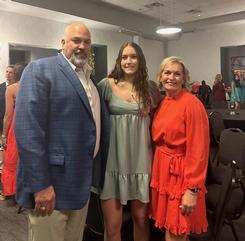 THE WOODLANDS, TX -- The 2022/23 school year is officially over this week. However, the way things are these days with school activities starting back up so soon, volleyball will be here in just over two months.

With that in mind, here is a prelude to the 2023/24 Woodlands High School volleyball program. When you talk about the upcoming Woodlands Lady Highlander season, you start the conversation with the heart of the program, Sophomore Ella Lewis.

The rising junior has made quite the mark in area volleyball already and she's only 16 years of age. If you follow volleyball around here you already know of Ella and how talented an athlete she is. That's all well and good, but what is Ella like as a person? She could have all the ability in the world, but we write these profiles to give you some insight as to what these young people who walk the halls of our schools are like personally.

To give you an idea of Ella's selflessness, she was in Chicago at the Windy City USAV National Qualifier where her team took the Gold in the 16's Open Division. Keep in mind Ella is on the court 100% of the time and this season she has taken on a roll as one of the "big talkers" on the court. She is constantly encouraging her teammates, talking them through plays and cheering for them when they have a great moment. She works hard to play as consistently as she can so the team is set up for success on every play. Off the court, Ella is still the one to let someone else go first or to let someone have the last of something.

At a very young age, she was always the first to let someone else be the line leader or let someone else be first at an activity. She has never been one to like being in the spotlight. Ella has always been a quiet leader...hence a great example for others.

A fellow student of Ella's offered the following....
'I would describe Ella as hard-working but not just when it comes to school work or playing sports. She always wants to be a better person. I've seen kids let their abilities get to their heads and act full of themselves. That's definitely not Ella. She is friendly and accepting of everyone and is always there for people no matter what. She helps people in school. For example, when I would struggle with school work such as math, she was always willing to explain it and help me understand it.'

Let's get to know Ella Lewis even more in this week's Woodlands Online Profile of the Week...

1) How long have you been playing volleyball? How did you become interested in volleyball and why did it win out over other sports?

I have been playing since second grade so about nine years. When I started playing volleyball, I was still playing golf and it was getting pretty boring and I just really enjoyed playing on a team with other people! Eventually I chose volleyball over golf because going back and forth from competing with a team to competing by myself really made me see that I am much more of a team sport person.

2) Describe the TWHS volleyball team and why you enjoy playing for the Highlanders?

The Woodlands volleyball team has an amazing culture and all of my teammates are very supportive! It is definitely not a very common thing to be able to play on the same team with your sister (twin Abby) which I am able to do for three years, so I am very excited to see what the future holds with that. I also get the chance to play with my best friend Payton Stroud and we have been playing school ball together for so long now that it wouldn't feel right to not see her at practice or the court with me. Coach Wade and Coach Pelosi are very into leadership and goals. They come up with mottos every year to define the program's goals and this year it is "Believe Big". Their goals are to make each and every one of us a leader and also for us to dream big and think that you can accomplish anything with hard work.

3) Do you like TWHS?
I do like the high school, obviously I would much rather be on vacation half the time but the school does a good job at trying to keep us engaged. The academics they offer are amazing and many teachers are very invested in their students' learning!

4) What college do you hope to be attending after high school? Do you know what your field of study will be?

My number one choice has always been Stanford but there are many others that I would love to go to. The main thing is I want to go somewhere that has good academics, preferably not freezing cold, and where I can play volleyball. I'm not sure what I want to major in mainly because I don't know what I want to do when I'm older. Maybe Business or kinesiology but those are just ideas and they are changing constantly.

5) What do you hope to be doing after you graduate from college?

I definitely want to get a job and maybe move out of Texas and see what other states have to offer. I do think I will end up back in Texas eventually though.

6) What do you enjoy doing away from school and sports?

I enjoy traveling and going to the Frio River or the lake. I also like to hang out with my friends and read.

7) Who is your role model for volleyball?

Kathryn Plummer because she was a stud at Stanford and is the whole reason I started to be interested in their volleyball program and watching college volleyball in general, and she now plays for the US Olympic team.

8) Describe how supportive your family is in everything you do in your life.

My family supports me in everything. They take the time to drive me an hour to club practice at least twice a week which I know sucks and they always try their best to be at a tournament even if it's only for two out of the three days. My grandparents look forward to watching the club and school livestream games any time we play and they text 'great game' after every single match whether we win or lose. My parents also push me academically and understand when something is challenging.

9) If you were given a million dollars and had to give it to one charity, which one would you choose and why?

Probably the Breast Cancer Awareness Foundation because my grandma has beaten breast cancer and more research just means more people can be able to beat it.

10) Three things people don't know about you.

I have a twin sister named Abby; I can't stand English. I am most definitely a dog person and have two dogs named Fynn and Aggie and I love them to death.

11) When is the last time you danced? Where? You any good?

The last time I danced was probably by myself in the car and I'm going to guess I was no good because I'm not the best dancer.

12) What is your favorite song in your phone now? Do you have a favorite group?

My favorite song on my phone right now is Dead Man Walking by Brent Faiyaz. I don't really have a favorite artist because I like almost any type of music, but I would say my favorites have been any songs with a good beat and cool instrumentals.


13) Your favorite movie of all time?

My favorite movie of all time is Top Gun Maverick. I liked it so much I think I've seen it four or five times now.


14) If you were sentenced to death but you were allowed to go on one last date, who would the lucky guy be?

Probably Jacob Elordi because he is very tall and has an Australian accent.

The Woodlands High School volleyball coach, Terri Wade shared her thoughts about Ella...

'Ella was a starting outside hitter her freshman and sophomore years. She has already won Newcomer of the Year, All District, All Tourney, All County, and All State awards. I'm really excited to watch her continue and develop as an all-around player for two more seasons. She can be a force on front and back row. She's really going to get to show off her wide range of play as a leader and upperclassman on our high school team this upcoming season. She works so hard and puts in a lot of time with volleyball, but she genuinely loves it. I've never heard her complain about the amount of time she spends playing volleyball. Most players would be exhausted and worn out if they were putting in the time that Ella does, but it is her passion. She loves to compete and no one can slow her down from doing what she enjoys. It has been fun watching her compete with her twin sister, Abby, who is also on the team. They have a special relationship. I can tell they are not just sisters, but friends. They make each other better on the court. Ella is the quieter one of the sisters, but she has a smart and witty sense of humor that catches you by surprise and makes you laugh. Her demeanor on the court is very similar. She seems quiet, but she's not. I love seeing her excited and fired up for her teammates, but when Ella is the big play maker, her teammates go crazy and she reacts with complete humility. She is the kind of player that future players will look up to and her coaches will never forget because of her amazing volleyball skills, humble heart, and will to work hard for her love of the game.'

Morgan Madison is a teammate of Ella's in club volleyball and also competes against her playing for College Park High School. Morgan shows us how she sees Ella as a teammate and foe...

Ella is one of the kindest people you'll meet, she's not super talkative but once you get to know her, she has the best personality. She is very competitive and consistent at the same time. Ella is one of the best teammates I've ever had not just on the court but off as well. She knows when to step up in big moments and isn't afraid to hold you accountable when you need it. She is always positive even if we are down and will step up to be a leader when the connection might not be there that game. She's a calm steady rock you can always rely on. Playing against Ella is no picnic, but I can tell you she operates with sportsmanship and would never show up an opponent.'

Will The Woodlands High School compete for a district championship and then advance deep into the state playoffs? Well, we don't have an all-things volleyball crystal ball, but we do know if Ella is on the court, the sky is the limit.