/

/

Balancing Growth, Preservation, and Restoration: Bayou Preservation Association Hosts 2023 Coastal Watershed Symposium
Balancing Growth, Preservation, and Restoration: Bayou Preservation Association Hosts 2023 Coastal Watershed Symposium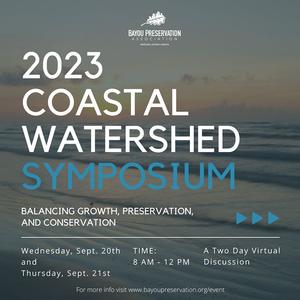 HOUSTON, TX -- Bayou Preservation Association announced today it will host its highly anticipated 2023 Coastal Watershed Symposium, centered around the central themes of "Balancing Growth, Preservation, and Restoration." The engaging two-day virtual event will take place Wednesday, Sept. 20, and Thursday, Sept. 21, from 8 a.m. to 12 p.m. each day.

"As our region experiences ongoing growth and development, we must remain steadfast in our commitment to resilience, sustainability, and the preservation of our water resources and watersheds," said Christopher Browne, LEED, AP, co-chair for the symposium and board secretary for Bayou Preservation. "The 2023 Coastal Watershed Symposium will bring together experts, stakeholders, and concerned citizens to foster a collaborative dialogue on balancing growth, preservation, and restoration, the future of our critical bayous and waterways."

The symposium will discuss strategies and initiatives being implemented to address the challenges posed by growth and development in the region and lessons learned from similar efforts in other areas. Bayou Preservation hopes that by sharing successful approaches and identifying areas for improvement, the community can work together to mitigate adverse impacts, ensuring the health and vitality of the water ecosystems for generations to come.

Andrew "Andy" Sansom, Ph.D., one of Texas' foremost conservationists, a founding member of the Texas State Meadows Center for Water and the Environment, former director of the Texas Parks and Wildlife Department, and executive director of the Texas Nature Conservancy, will serve as the keynote speaker.


Before the symposium on Tuesday, Sept. 19 at 9:30 a.m., the Houston Parks and Recreation Department's Natural Resources team will lead a field tour of Charles H. Milby Park. The tour will showcase the results of a six-year-old reforestation project along Sim Bayou. Participants will gain insights into the Riparian Restoration Initiative, HPARD's efforts to restore riparian forests within the City of Houston parks adjacent to waterways, and the valuable lessons learned from this first project site. Space is limited to 30 attendees, so early registration is encouraged.

To close the symposium, Bayou Preservation will host a networking mixer on Thursday, Sept. 21, at Riverhouse Houston from 4 p.m. to 7 p.m. The event will allow attendees to connect, exchange ideas, and collaborate on future initiatives.

To learn more and to register for Bayou Preservation's 2023 Coastal Watershed Symposium, visit www. https://link.edgepilot.com/s/3e25cc3a/zzKXWQkRcUuVhoer2rE3-g?u=https://www.bayoupreservation.org/events/2023-coastal-watershed-symposium-balancing-growth-preservation-and-conservation.

About the Bayou Preservation Association
Bayou Preservation Association is dedicated to celebrating, protecting, and restoring the natural richness of our bayous. Our vision is to create a network of thriving bayous, streams, and watersheds. Through educational programs, engaging activities, and diverse events, we aim to enhance awareness and understanding of the local bayous and creeks and their watersheds among all demographics in the region. Additionally, we work to promote stewardship and provide opportunities to improve the overall health of our watersheds, creeks, and bayous. For more information, visit www.bayoupreservation.org or call 713-529-6443.