About Us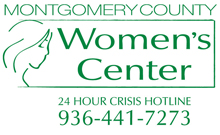 24-Hour Crisis Hotline 936-441-7273
The Montgomery County Women's Center provides safe shelter, counseling, legal advocacy, and transitional supportive housing to victims of family violence, sexual assault, and stalking in Montgomery and surrounding counties.

Our Services Include...
Safe Shelter
Individual and Group Counseling
24-hour Crisis Hotline
Legal Services
Advocacy and Accompaniment to Hospital/Court
Community Awareness & Education
School-Based Primary Prevention Education
Education Scholarship Program
Please visit our resale shop Something Special.
The store always has a wonderful selection of clothing for men, women and children, as well as a great assortment of infant and baby clothes. You will also find furniture, small appliances, linens and seasonal decorations.
If you are a decorator, you will love the ever-changing assortment of home decorator iitems we carry. And collectors, stop by. You will be amazed at the variety of collectibles in the store on any givien day.
Become a Volunteer
Volunteer Opportunities are available. If you can help, please call 281-292-4155 ext. 231.
The Montgomery County Women's Center is a United Way Agency.