/

/

Electric car chargers now on Market Street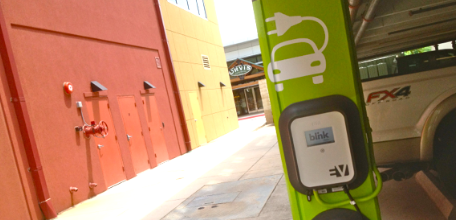 THE WOODLANDS, Texas –– There's something electric about Market Street.

Two all-electric charging stations, the first in The Woodlands, have been installed on the first level of the Market Street parking garage.

The Blink Pedestal stations are available for free on electric vehicles equipped with the standard J1772 connector, including the Chevy Volt, Nissan LEAF, Smart ED, Ford Focus and Mitsubishi I, according to the Woodlands Development Company.

"The charging stations add to the uniqueness of Market Street," said Jenny Taylor, marketing director for Market Street in a prepared statement. "We have already had cars charging in the spaces as well as calls asking if charging stations are available."

More than 200 Blink electric vehicle charging stations will be installed in the Houston area in the coming months as part of The EV Project, the largest rollout of electric vehicle infrastructure to date, according to the Development Company. The project calls for the installation of 15,000 commercial and residential charging stations in 16 cities and major metropolitan areas in six states and Washington D.C.