/

/

Second Annual Grand Chanukah Celebration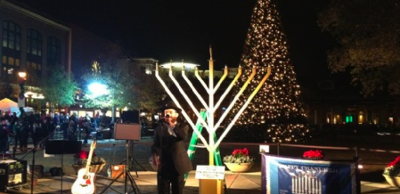 THE WOODLANDS, Texas -- The public is invited to attend the second annual Grand Chanukah Celebration and Menorah Lighting on Sunday, December 9 from 4:30 – 6:00 p.m. at Central Park in Market Street.

The nine foot Menorah (traditional candelabrum) will be lit at 5:15 p.m. Chabad of The Woodlands is hosting the event called, "Light the Night", in honor of Chanukah, the Festival of Light. Admission is free. Donations are appreciated.

Congressman Kevin Brady and Chairman of The Woodlands Township, Bruce Tough will be in attendance. Children's crafts and entertainment will be featured along with traditional Chanukah food including fried foods like hot latkes (potato pancakes) and doughnuts. Musical performances of Chanukah songs will immediately follow.

A Menorah Lighting will also be held on December 13 at 6 pm at Kingwood's Town Center Park.

Sponsorship opportunities are available by emailing Rabbi Mendel Blecher at rabbi@jewishwoodlands.com. For more information and to RSVP, visit www.jewishwoodlands.com.

Chabad of The Woodlands is a center for Jewish life in The Woodlands and surrounding areas.