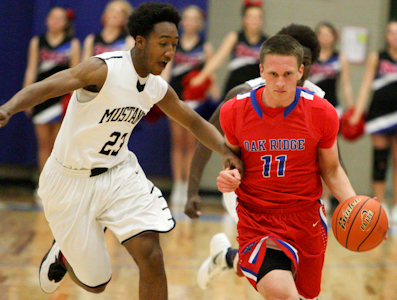 THE WOODLANDS, Texas – The Woodlands High School boys' basketball team began the second round of District 14-5A play right where it left of the first round.

The No. 17 state-ranked Highlanders (23-5, 7-0) pulled away from visiting Conroe on Tuesday for a 70-45 victory. Garret Colonna and Brian Baehl led the way with 15 points each.

The Woodlands led from the outset but had to withstand a couple of runs by the Tigers (9-19, 1-6).

The Highlanders built a 17-point lead in the first half. Hayden Galatas connected on a 3-pointer to lift the lead to 27-10 midway through the second quarter.

Conroe trimmed the margin to 31-21.

The Highlanders extended a 37-25 halftime lead with an 8-2 run. Tim Adeleye scored to give The Woodlands a 45-27 advantage.

But Conroe made another late run to get back in the game and the Highlanders' lead was 52-40 entering the fourth quarter.

But the Highlanders began to rain threes in the final period. Garret Burlas, Colonna, and Joe Primavera did work from beyond the arc and The Woodlands pulled away. Zach Manning added a couple of buckets from close range to finish the scoring.

Cody Mason, Garret Smith, Clay Fisher and Jack Clark also entered the scoring column for the Highlanders, who host A&M Consolidated at 7 p.m. Friday.

Elsewhere in District 14-5A play on Tuesday, the Oak Ridge High School boys' basketball team dropped a 74-63 decision at Bryan. The War Eagles (11-11, 2-5) led 49-48 after three quarters before the Vikings (12-11, 3-4) rallied.