/

/

John Cooper starts new school year with expansions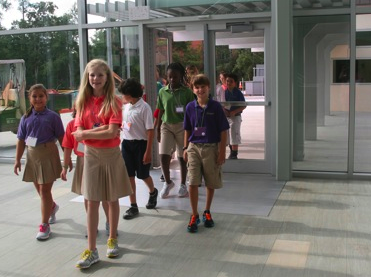 THE WOODLANDS, Texas -- The John Cooper School, a college preparatory independent school for students in PK through Grade 12, began the new school year on August 22 with the opening of a new two-story addition to the Lower School and record enrollment for the 13th consecutive year. The school opened with 1,103 students, 30 new faculty/staff members and campus-wide facility enhancements.

"The 2013-14 school year is off to a great start, with record enrollment, the largest senior class to date, and a beautiful new two-story extension to our Lower School," said Michael F. Maher, who is beginning his fourteenth year as Cooper's Head of School. "As we begin our 26th year, we are proud to have been part of George Mitchell's vision for The Woodlands that included the establishment of an independent school option for this community."

The school's greatest growth in enrollment is at the Lower School level (PK through Grade 5) with the addition of 48 new students for a total of 460, compared to 412 last school year. The new 16,500-square-foot two-story Lower School addition houses fifth grade classrooms for math and humanities and a science lab as well as a computer lab with a dedicated broadcasting room and classrooms for Spanish and music that are used by all Lower School students. The addition reduces Lower School class sizes while allowing for the admission of more students.

Cooper's football program, now in its third year, has been expanded to allow for a varsity and junior varsity team for the first time. A Spirit Store and concession stand are currently under construction in a building that faces Cooper's Pugh Field and should open in time for the Homecoming game on October 18 when the Dragons face Southwest Preparatory Conference opponent St. Stephens Episcopal School. Construction has also begun on a project to enhance the school's baseball facilities.

The number of faculty and staff on campus continues to expand in accordance with enrollment growth. Charles Williams has joined the administrative staff as the Middle School Dean of Students. Williams has a bachelor of arts degree from Rice University and has administrative experience from HISD and teaching experience at St. John's School in Houston.

Christine Provencio is also joining the administrative team as Human Resources Director. She holds a BAA degree from Sam Houston State University and has extensive administrative experience in human resources and health care. Chloe Rodriguez, who has a bachelor of science degree from Kansas State University and a master's degree from Texas A&M University, is joining the Advancement staff as Special Events Coordinator.

Among the 30 new teachers and teacher's assistants, is Cooper alumna Alicia Garbutt, who will be teaching Spanish in the Lower and Upper Schools. A 1997 Cooper graduate, Garbutt earned a bachelor of science degree from Texas A&M University and taught at Cypress Falls High School.