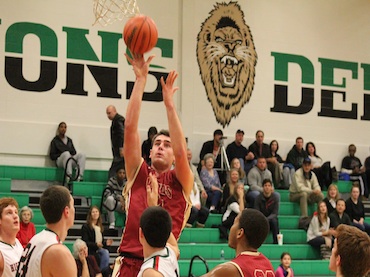 SPRING, Texas - Cy Woods used an 8-0 run in the first quarter and connected on nine three-point field goals in the first half en route to a 93-71 win in Tuesday night's Border Battle at Spring High School.

"We turned the ball over way too much early, even though they (Cy Woods) didn't really pressure us, we still had too many silly turnovers. In transition they got good looks, made them, got a lead on us that we couldn't overcome. I didn't like our effort, we are an effort team and we play with an intensity that causes other teams problems and tonight it was like we weren't even out there," said Highlander Head Coach Dale Reed.

Senior forward Cody Mason led the Highlanders with 17 points, Sophomore Cameron Burkett had 10 points and Senior Kyle Schnakenburg scored nine.

Both teams started out of the gate well as Cy Woods (4-1) held a slight 9-7 lead halfway through the first quarter. Turnovers and empty possessions would hurt The Woodlands (3-2) as Cy Woods went on an 8-0 run over the next 1:35 to open up a 17-7 lead with just under three minutes left in the first quarter. Cy Woods would go on another run, 9-2 over the final 2:30, hitting three more three-point field goals in transition to take a commanding 28-9 lead at the end of the first quarter.

The second quarter was more of the same for the Highlanders as they were outscored 23-15, as Cy Woods extended its lead to 51-24 at the half.

The Highlanders would not give up as they outscored the Wildcats 26-21 in the third quarter cutting the lead to 72-50 after three quarters.

The Woodlands would open up the fourth quarter with a three-point field goal by Senior guard Aaron Kovach to cut the Cy Woods lead to 19 just nine seconds into the period. The Highlanders continued to cut into the lead and Sophomore Cameron Burkett's free throws cut the lead to 16 at 74-58 with 6:39 left in the game. The Woodlands would not be able to cut the deficit anymore as Cy Woods built the deficit back on second and third chance opportunities in the paint.

The Woodlands will return home on Friday, November 29, to host the 2013 Benchmark Bank Thanksgiving Classic tournament.