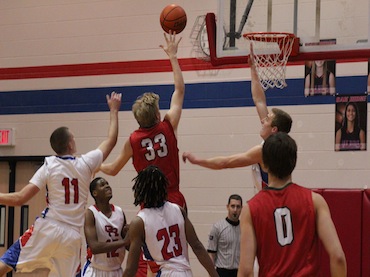 CONROE, Texas - The Woodlands Highlanders and Oak Ridge War Eagles were both looking to get back on the winning track after tough losses on Tuesday night.

The Woodlands (19-7, 5-1) outscored Oak Ridge 43-22 in the second and third quarters combined en route to a 69-50 road district win Friday night.

Oak Ridge (15-10, 2-4) started off hitting three-of-four three-point shots in the first quarter. However the War Eagles couldn't handle the pressure of the Highlanders zone defense and turned the ball over six times in the second quarter.

The second quarter saw the Highlanders outscore the War Eagles 22-10 to take a 14-point lead into halftime.

The Woodlands continued with pressure defense and forcing Oak Ridge to perimeter jump shots and limited the War Eagles to one shot on many possessions down the stretch.

The Highlaners will travel to Conroe on Tuesday, January 21, at 7:00 p.m., while Oak Ridge will host Bryan on Tuesday, January 21, at 7:00 p.m..