/

/

Interfaith's 'Serving Our Seniors' project makes a clean sweep of The Woodlands
Interfaith's 'Serving Our Seniors' project makes a clean sweep of The Woodlands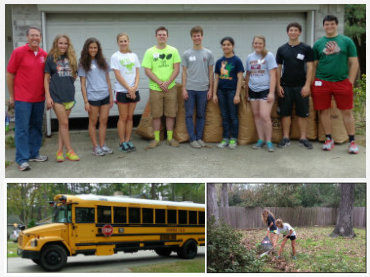 THE WOODLANDS, Texas -- Members of philanthropic organizations, employees of local corporations, churches, and students, were out in force to serve the seniors in Interfaith of The Woodlands bi-annual 'Serving Our Seniors' (S.O.S) service project that aids the elderly and physically-impaired, with various projects they're physically unable to do.

Originated by Interfaith of The Woodlands in 2005, the program is nearing a decade of service in what is one of the largest volunteer efforts in the community. Both in the spring and again in the fall, when the weather is projected to be the most pleasant, the legions of volunteers rake leaves, clear roofs of pine needles, clean out gutters, and trim shrubs.

Leadership High School Montgomery County was among the legions of volunteers out early Saturday morning, March 22, in an effort to beat the weekends impending wet weather. Arriving by bus, the volunteers consisted of juniors in a broad cross-section of the county's high schools that include (in alphabetical order): Caney Creek, College Park, Conroe, Magnolia, Magnolia West, Montgomery, Oak Ridge, Splendora, The Woodlands High School, and Willis High Schools. The organization introduces the students to mainstream life concepts like government, economics, and volunteerism. In the October through April program the students have visited hospitals, art venues, senior-care facilities, and even the jail, for a realistic depiction of how a community works and depends on each other.

"We had 32 students participating in the program today," said Kelly Locke, the coordinator for Leadership High School Montgomery County. "This was the first time this year's class has participated in a project like this. They were tasked with tending to the yards and homes of four community residents."

Other volunteer organizations participating in the S.O.S. program were Interact, the Rotary Club's youth organization, the College Park soccer team, NCL, and more. The volunteers worked at approximately two dozen homes and as many apartments in The Woodlands, performing a variety of tasks including light housework, and even cleaning bar-b-que grills.

In the past, Dr. Ann Snyder, CEO and President of Interfaith has said, "It's a wonderful gift the volunteers give to the community."

Although certainly not required but always appreciated, refreshments were served to the hard-working volunteers by grateful home residents. For more information about the S.O.S. project, call Interfaith of The Woodlands or visit their website at the link provided.