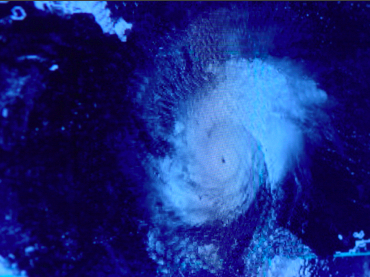 GREATER HOUSTON, Texas -- Just over a half century ago the largest, the most powerful hurricane in the history of the Gulf Coast, hit Galveston. The media coverage of Hurricane Carla was among the most impressive in the history of mass communications. Measures that would be considered mainstream in tracking hurricanes today, were innovative and unheralded.

In an unprecedented tie-up between the U.S. Weather Bureau in Galveston, and KHOU-TV in Houston, the television station became the official "eyes" and "voice" for the storm coverage. Jim Everhart, then a KHOU-TV reporter, documented the event in the book, "Hurricane Carla, A Tribute to the News Media," compiled and edited by Warren L. Hogan, copyright 1961.

The management team at KHOU-TV contacted the Galveston Weather Bureau June 7, 1961, to arrange a joint effort to provide viewers with official advisories and bulletins via television. Within minutes of agreeing to the tie-up, KHOU-TV dispatched a six-man technical crew to Galveston to establish a command post on the fifth floor of the Post Office Building where the Weather Bureau headquarters and the newly-installed giant radarscope were located. Among the team was News Director, Dan Rather, and Chief Engineer, Art Biggs.

By double-hopping the signal from the command post to the KHOU-TV studio in Galveston, and then to a transmitter 20 miles away in Alvin, the makeshift station was able to operate both audio and video through the master control in Houston. All went well until after midnight when the video signal was lost due to water damage at the Alvin transmitter. One of the unsung heroes was Racy Sanford, who climbed a 75-foot microwave tower in 80 mile-an-hour hurricane force winds, to drain water from the hook in the center of the micro-wave dish. Since the audio and video signals were being transmitted together, Chief Engineer Biggs managed to establish a direct line to the Houston master control which supplied the video substituting the radar scope with weather maps.

For the next sixty hours, KHOU-TV in tandem with the Weather Bureau, continuously broadcasted intensified advisories, bulletins, and evacuation instructions. Over 500,000 people in the path of the huge storm had been safely evacuated. The joint effort of online reporting with the weather station, set the standard for storm preparation and reporting that is now emulated throughout the country.

Over the last fifty years technology has evolved to provide the public with accurate weather information, delivering it to a variety of handheld devices real time. The hurricane season has officially kicked off for 2014, and regardless how one chooses to have accurate weather information communicated to them, the first step in the process is the willingness of human beings to communicate verbally with each other.

Note: Proceeds from the sale of the book went to the Hurricane Carla victims.