/

/

Last day to participate in Giving Tree Farm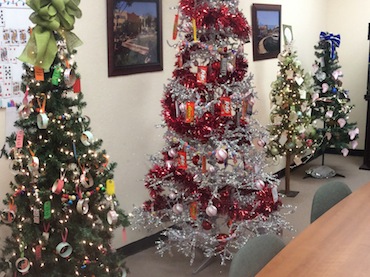 THE WOODLANDS, Texas – Give the gift of giving this season with the second annual Woodlands Online Giving Tree Farm. Several non-profits throughout the Montgomery County area will be participating in order to help raise funds and specific items needed for their organization.

The Giving Tree Farm will be set up in the Woodlands Online office, located at 33300 Egypt Lane, Suite B500, Magnolia, TX 77354 and various locations throughout The Woodlands area. Exact locations will be announced soon. From December 3 until December 23, residents and businesses can stop by and pick ornaments off the tree any weekday between 9am and 5pm. Each ornament will list a donation item that a local non-profit needs during this Christmas season.

The following non-profits will use your gifts to help provide for those in our area that are in need this season:

Love Fosters Hope

Love Fosters Hope is a non-profit organization that brings hope, healing, and a bright future to children and teens in foster care in Montgomery County who have been abused, abandoned, and neglected. Each summer, Love Fosters Hope hosts summer camps for children in foster care. There, they are able to build friendships while just having fun being a kid. The goal of Love Fosters Hope is for every child to see that they are significant, valued and loved.

The items on Love Foster's Hope's Giving Tree will go toward young girls in foster care who are currently in a Residential Treatment Center.

Items Requested:


Teen girls pajamas (sizes small, medium, large, extra large)

gift cards

Montgomery County Youth Services (MCYS)

Montgomery County Youth Services is a non-profit organization that provides crisis counseling, shelter programs and prevention services in order to strengthen families, keep youth in school and prepare them to be productive citizens.

Items Requested:


Gas cards ($30 or under)

Grocery store gift cards ($30 or under)

Mercy House Kenya

Mercy House Kenya was founded in by Kristen Welch, a local mom of three, and writer of the parenting blog, "We are THAT family." A 501(c)3 non-profit organization, Mercy House is located in Kenya, Africa, consisting of two safe houses for young pregnant women to give birth and raise their children in a safe environment. Many women at the Mercy House were forced into prostitution in order to help feed their families. With Mercy House, these women and children are given prenatal care, appropriate nutrition, Biblical teaching, educational learning, an account to start small business, a safe place to learn and heal, and much more. Watch a video about Mercy House Kenya.

Items requested:


Small baby toys (babies in Kenya)

Board books (toddlers in Kenya)

Fingernail polish, chap stick (for teen moms in Kenya)

Yarn (wool and cotton) in all colors (Fair Trade Friday refugee partners)

Carseats infant and toddler (Fair Trade Friday refugee partners)

Crochet hooks -all sizes (Fair Trade Friday refugee partners)

Backpacks (Fair Trade Friday partners in Ethiopia)

School supplies (Fair Trade Friday partners in Ethiopia)

Operation Military Embrace

Operation Military Embrace (OME) is a Texas-based 501(c)(3) non-profit charity that works to help, understand, give and serve those who have sacrificed so much for America. At OME, volunteers host motivational events for wounded/ill veterans and their families, provide financial assistance, send care packages to deployed troops, and much more. Items gathered goes toward wounded veterans at the San Antonio Military Medical Center and their families, as well as deployed troops. The OME Christmas tree will be at Blue Mug Cafe. Stop by the restuarant today to enjoy some delicous food and pick up an ornament while you are there! The unwrapped items can be placed under the tree anytime before December 23. Blue Mug Cafe is located at 30420 FM 2978, suite 400.

Visit this link for a full list of requested items.

Operation Pets Alive

Operation Pets Alive (OPA) is a 501(c)(3) non-profit, no-kill volunteer organization in Montgomery County, Texas, that promotes a no-kill community for homeless animals through advocacy and community-supported programs. OPA raises community awareness, reduces the number of dogs and cats that enter their shelters, and increase the number of dogs and cats that leave their shelters.

Items Requested:


Towels or blankets

Cat litter

Dry dog food

Dry cat food

Wet cat food (pate style)

Wet dog food (pate style)

Panther Creek Inspiration Ranch

The Panther Creek Inspiration Ranch is a 501(c)(3) non-profit facility whose mission is to enhance and transform the lives of children, individuals and families struggling with mental and physical challenges. The Ranch offers exceptional equine programs in a loving Christian environment.

Items requested:


Mane & Tail (conditioner only) 1 gal

Essential oils for natural fly control: lavender & citronella

Silver Ointment (1st aid)

Stable picks – Fed/tractor supply store

Yoga-exercise balls 2 of each 75cm & 65cm

Halters lead ropes, and rope reins

Large plastic barrels – (i.,e construction road-side size)

Small buckets (8qt) and grooming tools – (local feed or tack stores)

Slow feeder hay nets

Gift cards to use as volunteer awards - can be $5-10, from Starbucks, TCBY, etc

Lowes & Home Depot gift cards

Cleaning supplies for helmets – rubbing alcohol, tea tree oil, rags

1-5" cone set from the freedom rider website

Cone sleeves with pockets, (these are for adding visual aids to cones, eg. numbers, letters, words, riders names etc.)

Rainbow colored foam batons, for relays, teamwork etc.

StoneBridge Food Pantry

The food pantry at Stonebridge Church provides non-perishable food items and basic necessities to people struggling with poverty.

Items requested:


HEB gift cards

Size 4 and 5 Pull-ups

Cases of Peanut Butter and Jelly

Cases of Pancake Mix and Syrup

Cases of Condiments, such as Mayo, Mustard, and Ketchup

Snack items for children, such as cases of granola bars, cases of microwave popcorn, cases of poptarts, cases of fruit snacks, and cases of peanut butter crackers.

Chili and Saltine Crackers

Spaghetti and Meatballs

Hearty Cereals

Also at this time of year, the food pantry goes through a lot of Hot Chocolate and Apple Juice.