/

/

Education for Tomorrow Alliance celebrates 25 years with a sterling example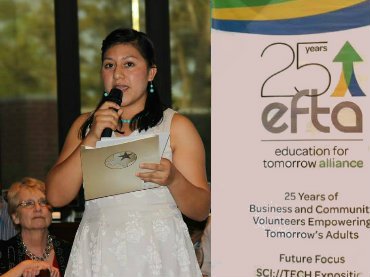 MONTGOMERY COUNTY, Texas - Education for Tomorrow Alliance (EfTA) hosted their Silver Anniversary celebration on Wednesday, March 25, inviting volunteers, past and present board members, sponsors, and community partners, who have set a sterling example for a quarter of a century of business partnering with education.
EfTA...a quarter of a century of bringing education and business together.
A nonprofit organization, EfTA provides innovative programs focused on science, technology, and career preparation, and is the vital conduit to business and educational communities in Montgomery County, Texas.
EfTA was spawned a quarter of a century ago by the Houston Advanced Research Center (HARC), an independent organization that performs analysis on energy, air, and water issues, for people seeking scientific answers in order to provide a sustainable future. The engineers wanted to perpetuate their work for generations to come.
What initially started with a science fair, has evolved to become the annual SCI://TECH Exposition, in addition to other programs which include the Future Focus (formerly CHOICES), an in-classroom program of interactive projects facilitated by business professionals, and the Student Internship Program (SIP), a hands-on experience in the workplace of the students' desired career field. Approximately fifty local companies are participating annually in SIP.
"The scientists on Research Forest at the Houston Advanced Research Center said 'We have all this talent growing up in The Woodlands, we need to leverage it,'" said retired EfTA Executive Director, Dr. David Norton. "We partnered with the Woodlands Chamber of Commerce to help organize it."
Dr. Norton shared a chronological overview of the history of EfTA the past 25 years, acknowledging those present, who were instrumental in its success.
Nothing underscores success better than one of the organization's own success stories. Lone Star College student, Beatriz Ramirez-Garcia, a sterling example of EfTA's programs, shared how the organization helped her pursue her chosen career.
"Through the EfTA programs I realized that I could succeed in anything I wanted to do," Said Ramirez-Garcia. "I participated in the Student Internship Program and made contacts that are helping me with my education. I am so grateful for what this organization has done for me."
After graduating Lone Star College with the essential prerequisites, Beatriz will transfer to either the University of Houston or Texas A&M University to major in petroleum engineering.
EfTA Chairman, Brian Pellon, Vice President of Research & Development at Huntsman Corporation. presented commemorative awards to the educational institutions that included Conroe Independent School District, Lone Star College, the John Cooper School, and The Woodlands Area Chamber of Commerce. Major business partners and sponsors were also acknowledged.
In turn, Monica Bomkamp Enia, EfTA President, thanked the volunteers who have tenure with the organization.
"When EfTA was created, Pretty Woman was topping the box office, MC Hammer was telling us, "U Can't Touch This" and The Simpsons was a new show on TV. Some of our dedicated volunteers have been supporting us ever since," said Enia. "We couldn't have accomplished what we have these past twenty-five years if it weren't for our volunteers."
Although EfTA currently has approximately 2000 volunteers, there is always room for those who want to be involved with an organization that provides an intrinsically rewarding opportunity. To volunteer for the EfTA programs, click on Get Involved. To read more about EfTA go to EfTA Education for Tomorrow Alliance.
To view photos of the EfTA 25th Anniversary Celebration, click on the links provided.
#EfTA