/

/

EfTA Student Internship Program paves the way for a successful career journey
EfTA Student Internship Program paves the way for a successful career journey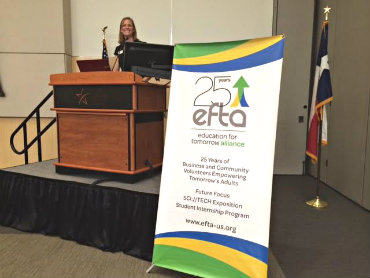 MONTGOMERY COUNTY, Texas - The Education for Tomorrow Alliance (EfTA) Student Internship Program (SIP) culminated with a panel discussion of community professionals followed by a Q & A, a mini workshop on resume writing and interviewing skills, then the celebratory luncheon.
Hosted jointly by Lone Star College - Montgomery and Lone Star University Center, the 83 interns went away with two weeks on-the-job work experience in a desired career field, sage advice, and skills to help with both college admission and job placement.
The annual summer program offers motivated high school seniors a hands-on learning opportunity with approximately fifty diversified work environments throughout the county. This is designed to be an initial step in identifying a possible career path and pave the way for determining a college course of action.
In welcoming the business mentors and interns to the luncheon, EfTA President Monica Bomkamp Enia, acknowledged both the sponsors and mentors. Luncheon sponsors included huntsman, The John Cooper School, Memorial Hermann The Woodlands Hospital, PBK, The Woodlands Area Economic Development Partnership.
"You make it possible for us to provide this opportunity to these interns," said Bomkamp Enia.
Intern testimonials underscored the significance of the program as stated by Kathryn Dickerson from The John Cooper School, who interned at True Companion Animal Hospital.
"This is why the EfTA internship is so valuable. It provides a job to those who don't have skills," said Dickerson, who is interested in veterinary medicine. She added that Dr. Andrea Webb's veterinarian clinic provided a realistic depiction of what veterinarians really do.
Taylor Pittman who attended The Woodlands High School had an opportunity to work in the environment of a non-profit organization, serving her internship at Montgomery County United Way to learn more about the world of finance and accounting.
"I never thought working in an organization's office in front of a computer could make an impact in the community."
If these weren't enough eye openers, Julie Struble, Vice President of Human Resources at Anadarko Petroleum Corporation, had a few more...three key things to ask themselves:
What's your passion?
What's your talent?
What's your possibilities?
How can you turn them into a satisfying career that will provided the quality of life you seek? Struble recommended seeking out experienced professionals whose opinions you value.
"Remember. Your career is a journey, so taking the scenic route early, on can be wise," said Struble. "Just keep the detours short ones."
Struble was implying that the first career choice may not be a good fit, and that it's OK to change majors in college, even more than once, but to stay focused on the overall objective.
She also asked interns be aware of "what" matters…
Grades matter
Activities matter (They show that your balanced.)
Internship matters
Networking matters
"What you know and who you know, both matter," said Struble.
Work ethics matter
Attitude matters
Sense of Humor matters
"And values really matter!" emphasized Struble. "Character defines who and the how of what you do. Always to the right thing, even if it hurts."
All of the 83 interns would probably concur that participating in the Student Internship Program was the 'right thing.' Did it hurt? Probably not so much.
For more information about SIP and the Education for Tomorrow Alliance, see the related link provided.
#EfTA #SIP