FOOTBALL: Conroe closes season with a 19-13 win against College Park in overtime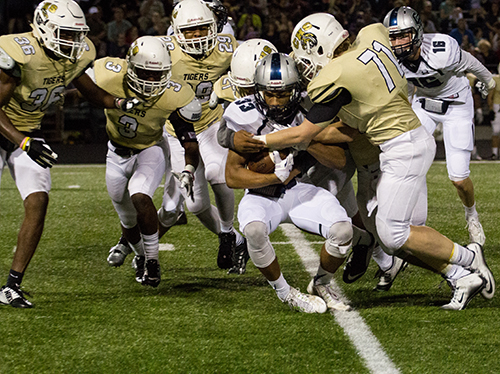 CONROE, Texas — The College Park Cavaliers ended their regular season on a rough note after their overtime loss against the Conroe Tigers.

Watch the exciting overtime finish On-Demand, presented by Wiesner Automotive.

See highlights from the game here.

College Park opened the game conservatively with a field goal. Conroe did not possess the ball long before College Park's Kaleb Taylor grabbed an interception. Just two downs later, Conroe recovered a fumble off of the Cavaliers.

The Cavaliers maintained their 3-0 lead through the first quarter of the game, but with less than two minutes left in the half, a touchdown pass gave the lead back to Conroe. The extra point was no good and left the score 6-3, favoring Conroe. College Park closed the half with a big pass to junior running back, Tucker Woody. They were able to tie up the game by halftime with a successful second field goal attempt by junior kicker, Hunter Rook, bringing the score to 6-6.

The teams went into the second half with two College Park interceptions by Kaleb Taylor and Sean Milligan, but Conroe pushed through with another touchdown and took the lead 13-6. Later, Tucker Woody would run the ball in for a Cavalier touchdown and tie the game 13-13 and bring the game into overtime.

Conroe made their game winning touchdown and brought the final score to 19-16, which was the team's only victory in their district matches. The Tigers' head coach Robert Walker said he was proud that his team's effort allowed them to end their season on a positive note.

"That's what it means to end on a high note to give us a platform for next year. I think it showed the type of football team we've had all year," Walker said. "Our kids have never quit throughout this whole year. We keep telling them, 'Guys you're getting better.' And tonight they were able to see that. Our kids don't understand getting better and not seeing it on the score board, and they were able to see it on the score board."

Although they faced a tough defeat, the Cavaliers have secured a spot in the playoffs. College Park's head coach, Richard Carson, said that Conroe, fueled with motivation, did a great job and earned their victory. He said he wants his team to continue to improve and maintain a good attitude.

"We've got to work and we've got to be positive," Carson said. "We've just got to get better."

Information on College Park's matchup in the first round of playoffs will be available soon.