/

/

Breast care center opens at Houston Methodist - The Woodlands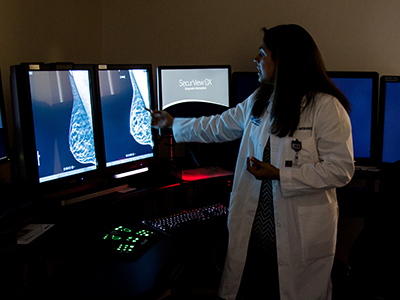 THE WOODLANDS, Texas — The Houston Methodist Breast Care Center at The Woodlands opened recently with medicine-leading technology and highly trained specialists in breast cancer detection and treatment.
New breast care facility boasts advanced 3-D mammography and board-certified, fellowship-trained specialists
Developed as a spa-like environment to create a serene and nurturing experience, the breast care center is located in the new six-story, 150,000-square-foot Houston Methodist Hospital Medical Office Building 1, adjacent to the Houston Methodist The Woodlands Hospital. The hospital is under construction and scheduled to open in 2017.
The center features advanced 3-D mammography technology using low-dose radiation known as tomosynthesis. 3-D mammography takes cross-sectional X-ray images of the entire breast from multiple angles, which allows physicians to look through the tissue. Access to clearer images improves early detection of invasive breast cancers by providing more accurate images than standard 2-D mammography, reducing the need for additional imaging.
This innovative 3-D mammography system is approved by the U.S. Food and Drug Administration. Magda Ghobashy, M.D., a board-certified radiologist and fellowship-trained in breast mammography, serves as medical director of the Houston Methodist Breast Care Center at The Woodlands. Ghobashy works closely with breast surgical oncologist Loren Rourke, M.D., FACS, Houston Methodist Regional Breast Program Director, who is also fellowship-trained in breast surgery.
"While a regular 2-D mammogram shows a single view across the entire breast our state-of-the-art 3-D digital imaging technology enables us to see 'inside' the breast, reducing or eliminating the problems caused by dense tissue overlapping," Ghobashy said. "This helps physicians detect smaller tumors sooner at the earliest stages of breast cancer and arrange clinical intervention when needed. This is important because we know that the earlier treatment begins, the higher the survival rate."
Debbie Sukin, Ph.D., Houston Methodist regional senior vice president and CEO of Houston Methodist The Woodlands Hospital, said the center provides the highest level of treatment options with a cohesive breast care team that includes breast radiology, breast surgery, plastic surgery, pathology, medical oncology, radiation oncology and navigation to provide a seamless patient experience.
"The patient-centered approach of our breast care team and state-of-the-art technology is leading medicine in The Woodlands," Sukin said. "At Houston Methodist Breast Care Center at The Woodlands, you can take comfort knowing that only board-certified, fellowship-trained radiologists dedicated full-time to breast care will read your mammograms. Our team stands ready to provide care for the entire patient and family, offering numerous programs for emotional and spiritual health."
For more information about breast cancer screenings and services visit houstonmethodist.org/thewoodlands. To schedule an appointment at the Houston Methodist The Woodlands Hospital Breast Care Center located at Suite 310 of Medical Office Building 1 at 17183 Interstate 45 South in The Woodlands, TX 77385 visit houstonmethodist.org/appointments or call 936.270.3600.