/

/

Determined runner, six-year-old with cerebral palsy trains with CHI St. Luke's and Olympic hopeful
Determined runner, six-year-old with cerebral palsy trains with CHI St. Luke's and Olympic hopeful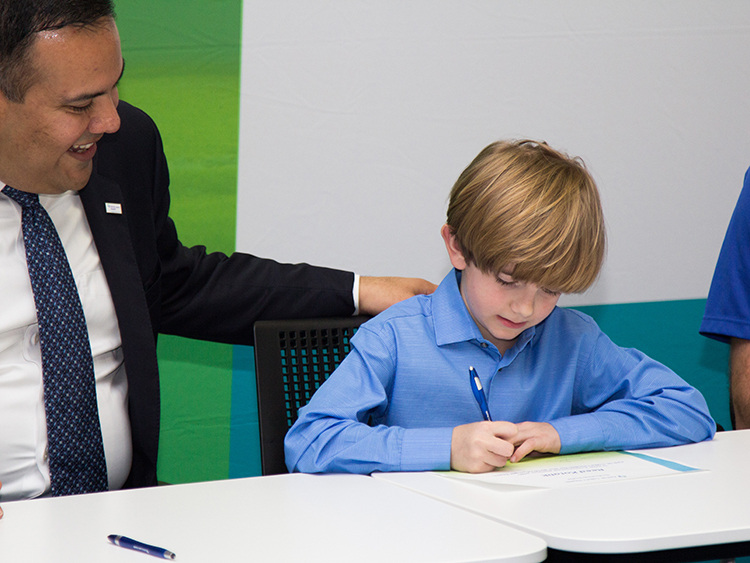 THE WOODLANDS, Texas — Reed Kotalik is a typical, energetic six-year-old boy. In November 2014, he was diagnosed with cerebral palsy. Within the same month, Reed asked his mom if he could run in a local race. He placed third.
To be that competitive and doing as much as he is doing and being that driven is something that you don't get to see very often
Cerebral palsy is a physical disability that impairs muscle movement and posture as a result of brain damage before birth, during birth or immediately after. Reed's mother, Dawn Kotalik, said knowing what her son was dealing with, she was emotional watching him run at all.
"I knew what he was battling," Dawn said. "I felt like I had this huge lump in my throat just watching him crawl to the finish line."
Once Reed crossed the finish line at his first race, he went home with his family. His mom got a call from the race's management staff saying that Reed won 3rd place and had a trophy waiting for him. What Dawn thought was merely a fun activity soon turned into Reed's pursuit of an early career in track and field.
After hearing so many good things about CHI St. Luke's Health - The Woodlands Hospital Performance Medicine department, Dawn decided she wanted to see how they could help her son develop into an athlete. When Reed met the department's lead physical therapist, Andrew Arthur, PT, there was an instant connection.
"It's just been an absolutely phenomenal experience. They customize the workouts to really keep him excited," Dawn said. "They're always changing it up, especially at his age so he doesn't feel like he's doing the same thing. It's the same goal, and it's the same strengthening, but they really adapted their way of training so that he's excited about it. Andy is his buddy and partner, and he wants to come here and see Andy."
Arthur, who works with a wide variety of athletes, said that Reed is certainly a unique patient.
"To be that competitive and doing as much as he is doing and being that driven is something that you don't get to see very often," Arthur said. "Working with him has been something that, for me, is very rare. He's also been such a good kid, and he comes in and you can tell that he's passionate about what he does."
A year of working with Arthur dropped Reed's mile time by three minutes and helped him gain more control of his legs and feet. Arthur said that cerebral palsy can majorly affect muscle tone, coordination and symmetry. With this in mind, Arthur fine-tuned Reed's training to transition the muscular therapy to athletic development.
"We started to work on some things to train that stuff out of the pattern that he was accustomed to so that he would use his lower extremities more symmetrically," Arthur said. "Once we started doing that, we saw an immediate improvement in his times, and we also saw some objective improvements in his lower extremity alignment when he's walking and running."
The young runner also trains with Chris Bilbrew, a local athlete who will be running the 800-meter at the Olympic Trials in July. Bilbrew formerly coached Reed's older brother, and Reed's mom decided it was time to reconnect.
"Chris has been such an inspiration for Reed," Dawn said. "He picks Reed up at 6:45 in the morning to do morning runs, and that's their thing. He just thinks it's fun."
Bilbrew said that in an attempt to keep Reed's training and his own separate, Reed has no idea that Bilbrew runs competitively. To Reed, Bilbrew is just his coach and running buddy. Three paths crossed about two months ago when Bilbrew needed to see a doctor for a knee injury. Having a great experience with CHI St. Luke's, Dawn suggested that Bilbrew get treated at the same facility.
During his first appointment, Arthur found out that Bilbrew was training for the Olympic Trials and offered him a spot in their department's athlete sponsorship. After meeting with the staff and seeing the different amenities that he'd never before had access to, the decision to train with CHI St. Luke's was a no-brainer.
Arthur said from a physical therapist's perspective, it was fun to see all the paths converge at CHI St. Luke's Performance Medicine department. He said it was exciting to have one of his patients coaching another.
"That was really interesting for me to be working on the physical therapy side of things and then to find out that Chris was helping him, coaching him and working on some of his skills was kind of a special thing," Arthur said. "Being able to discuss some of the things that he does in working with that and how it crosses over with some of the things that I do. It's not something that always happens, but the running world can be a small world."
Since winning 3rd place in his very first race, Reed has accumulated titles and awards from Run Houston and the AAU National Championship. He recently began to endeavor into field events, and at the West Coast Primary Championships in July, Reed won the gold medal in shot put and brought home several other medals. Seeking more than athletic success, Reed wants to start competing to contribute awareness to causes such as cerebral palsy, CASA, batten disease and Head for the Cure.
For more information about CHI St. Luke's Health - The Woodlands Hospital Performance Medicine department, visit their website at www.chistlukeshealth.org/performancemedicine.