/

/

The Woodlands resident to receive award at Super Bowl celebration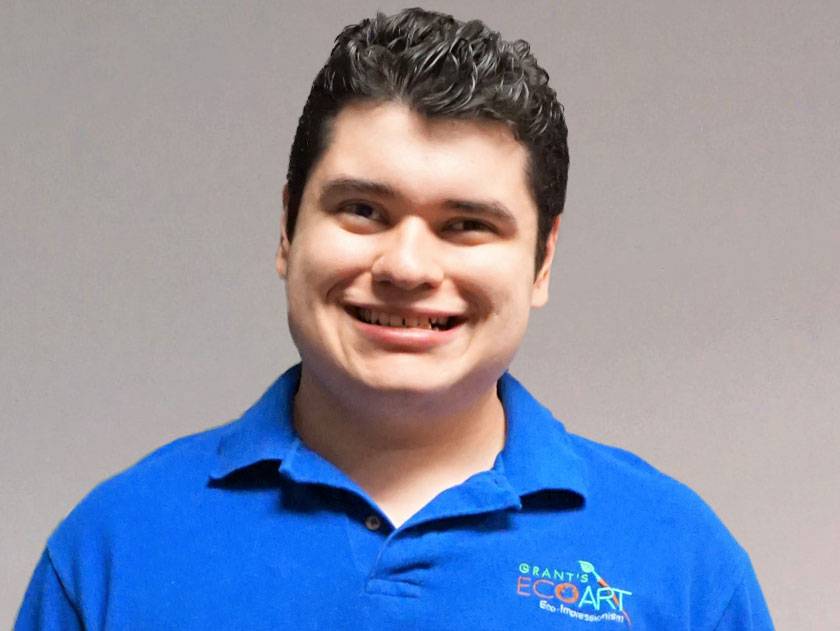 THE WOODLANDS, Texas -- Eco-Artist Grant Manier, a 21-year-old, award-winning artist who is living with autism, is publishing his first storybook, Grant the Jigsaw Giraffe: Different Is MORE, which includes Interactive Smart Phone technology and a plush toy giraffe.
Grant created the artwork shown within the book about a giraffe that is born different and follows his passion to be a talented artist, despite his challenges. Each book purchased is personally autographed by the author and illustrator, Grant and Julie Manier.
"This heartfelt story resonates with anyone who feels different, but not less... they're MORE," said Julie Manier, founder of Grant's Eco Art, as well as Grant's mother. "The giraffe is meant to represent Grant and his real life circumstances of living with special differences."
In addition, the book includes smart phone interactive technology; the book reader receives a virtual experience to meet the author and artist by downloading a free phone app and pointing the phone at the cover and the zoo animals within the book. Plus, short videos are included about the making of the art by Grant Manier.
The technology that is associated with this book has already received the Silicon Valley of the South in Texas' STEM (STEAM) 2020 Excellence Award. This award will be presented to Grant on Friday, February 3 at the STEM NFL Super Bowl Celebration by Ray Lewis, an NFL Super Bowl winner.
Pre-orders for Grant's Limited First Edition collection are being taken as part of a fundraising campaign on Indiegogo. Extra products and a numbered series are given to participants. To reserve a copy of the Jigsaw Grant book and stuff toy Giraffe, visit www.JigsawGrant.com and use the Indiegogo campaign button to pre-order.
While living with autism, Grant Manier has helped the environment by using recycled items for his work and led the way for special needs skills and art therapy. Because he uses recycled materials with cool colors, cool shapes, and cool textures, Grant calls his masterpieces, "COOLAGES".
Not only is Grant an eco-artist, he is also a motivational speaker who has raised over $150,000 for great causes, encouraging and engaging his audience with his own distinct art style and message. His story personifies a child growing up with a "quirky" behavior, maturing into a young adult, and finding his way as he transitions independently into the world of adulthood.
"Grant has a long-term vision to create packaging, labeling and shipping jobs for his fellow friends as his business grows." Julie Manier said.