/

/

Lone Star Family Health Center employee receives national leadership award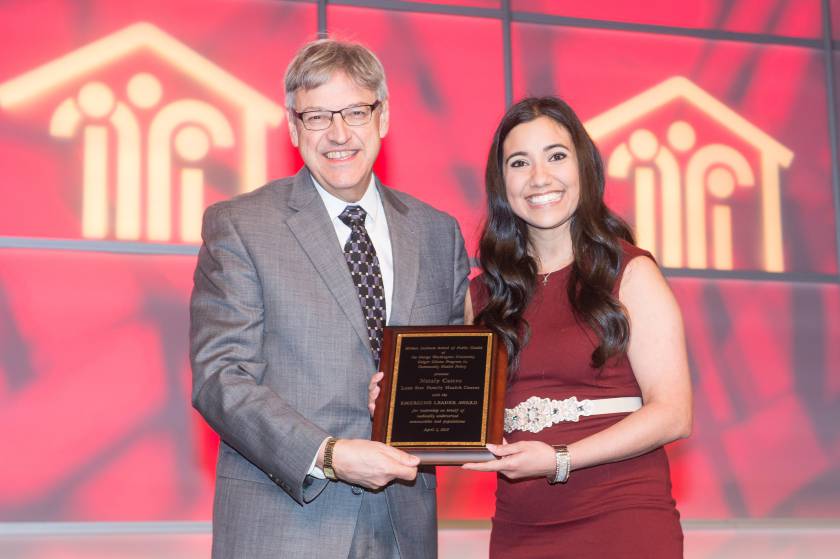 MONTGOMERY COUNTY, Texas -- At a ceremony in Washington DC on Saturday, April 1, 2017, Lone Star Family Health Center (LSFHC) Business Services Manager, Nataly Castro, was awarded the Geiger Gibson Emerging Leader Award at the National Association of Community Health Centers (NACHC) Policies & Issues Conference. Each year, the Geiger Gibson Program in Community Health Policy in the Milken Institute School of Public Health at the George Washington University recognizes young professionals leading the way in community health.
"Nataly is a unique asset for LSFHC," says CEO Karen Harwell, "she has the leadership ability to manage staff and operations while expressing the empathy needed to thrive in the field of community health."
Castro has worked at LSFHC in multiple capacities since 2006. She is now the organization's Business Services Manager, supervising 22 staff members including a call center team that handles 600 daily phone calls and a team of medical office specialists that handle 250 patients checking in for their appointments each day. Castro is a strong source of stability and direction for LSFHC, managing business operations with a level of empathy and professionalism that is admired across the organization.
Since Castro began her career at LSFHC, the organization has relocated to a 70,000 square foot facility neighboring Conroe Regional Medical Center, opened two satellite clinics, added dental and mental health services, and is currently expanding into the east part of Montgomery County. Castro has been an integral part of the LSFHC team, and advanced with the organization due to her skill, passion and willingness to learn.
"Nataly balances the need to be both sympathetic and effective with grace," says Harwell, "As I watch her guide so many in our organization, I see that her knowledge and compassion will drive her to continue serving the community in a growing capacity."
Castro has deep roots in the Conroe, Texas, community, where she has grown up, attended CISD schools, married and begun a family. She is a graduate of Conroe High School and Sam Houston State University.