/

/

The Church at Woodforest to expand to two Sunday worship services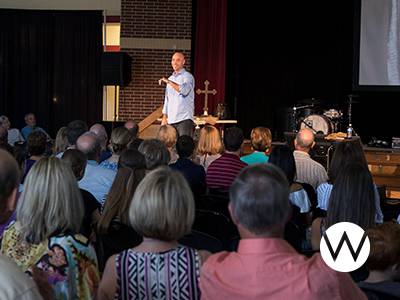 THE WOODLANDS, Texas — Starting Sunday, August 20, The Church at Woodforest will expand from one 10:00 a.m. worship service to two Sunday morning services meeting at 9:00 and 11:00 a.m.
Since being planted as a Woodforest campus of The Woodlands United Methodist Church in January 2016, the church — currently meeting at Jean Stewart Elementary School — is already hitting attendance numbers that weren't expected until the beginning of 2019.
"We just don't have anywhere to put people anymore," says Rev. Brent Parker, The Church at Woodforest's Lead Pastor. "We are a growing church, and we need more space for those who are coming to us in search of God."
The additional service will also give busy attendees another option to gather with their community for worship.
"For many families with active kids, Sundays are filled with sports or various clubs," says Rev. Parker. "To only have one worship hour at 10:00 a.m. means that if a child has an event, that family can't make the service at all. Switching to 9:00 and 11:00 a.m. for our worship services gives people a little more flexibility in their schedules."
Switching to two services is a natural progression on the way to building a dedicated worship facility on the 13.1 acres of Woodforest property that The Woodlands UMC purchased in December 2014.
Current plans see the church breaking ground on the new facility in the summer of 2018.
Until then, moving to two services will help keep pace with the popular master-planned community, which has seen its population grow by around one thousand people in the last year.
"People are moving out here because they want a smaller community," says Rev. Parker. "So even as we grow, we want to continue to create a worship community where you walk in, see your neighbors and go catch up with them as if you're sitting on your own front porch."
For more information on The Church at Woodforest, contact Pam Broussard at pbroussard@twumc.org or 281-433-0362.