'There's nothing like high school football': Former quarterback Eric Schmid reflects on time with The Woodlands Highlanders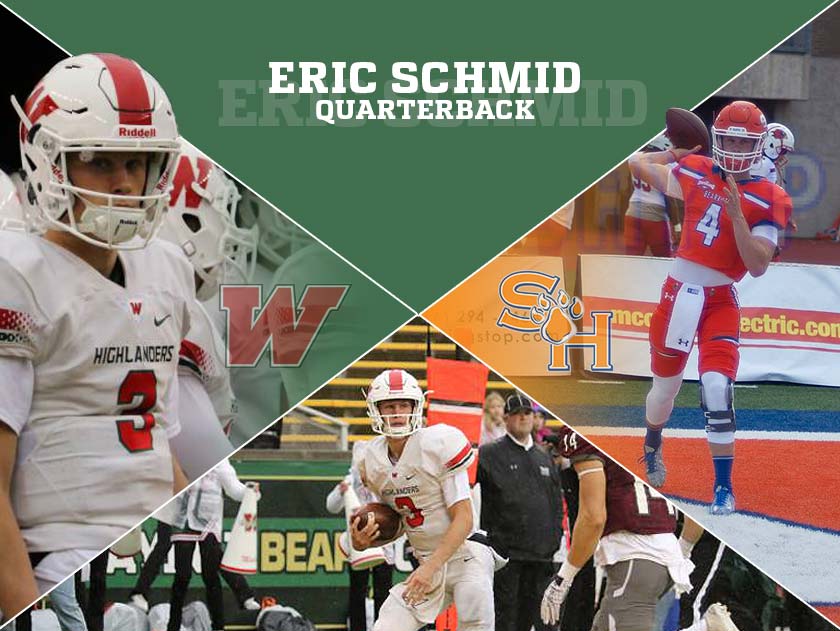 THE WOODLANDS, Texas -- The Woodlands High School Highlanders are currently 6-1 and will soon head to playoffs with quarterback Quinton Johnson at the helm. With that in mind, who could ever forget last year's run to state with quarterback Eric Schmid in the lead?
'Enjoy every moment of it. Once it's gone, you can't go back.' - Eric Schmid
Schmid is currently a freshman at Sam Houston State University. When he's not studying general business, he's hitting the turf as a Bearkat.
Woodlands Online chatted with Schmid about his college ball experience so far, and his words of wisdom to the Highlanders.
What's college ball like?
It's very competitive. Everybody that's there was a bigtime player at their high school. Here, you're starting over. Not everybody knows who you are.
You're a quarterback, but what does that mean as a freshman in college?
SHSU signed two freshman quarterbacks, and we've been competing with each other ever since we got here, but we both know neither of us will be playing this year. Like I said, you're starting over. You have to prove that you can play with all the guys out there.
What do they have you doing?
Lifting weights, practices, and I dress out for games. As of now I'm "redshirt" because I haven't played at all. We have a couple freshmen playing but that's related to particular positions. With the quarterback position, only one main guy plays. When spring comes around, I've been told it will be between me and the other freshman, and a guy who is a sophomore now but will be a junior next season … we will all compete for it. (Editor's note: The main quarterback is senior Jeremiah Briscoe from Stratford High School, Spring Branch ISD in Houston)
Are they bulking you up?
Yes, I've gained probably 15 pounds, so I'm finally gaining weight! I could never gain weight in high school.
What are your memories of high school football, good and bad?
I have two favorite moments: The game against Sachse (Nov. 18, 2016), coming back and winning that game, that was crazy. There was a time in that game we thought 'wow, we could actually lose this.' Then we came back and won. And then for sure the Allen Eagles game (Dec. 10, 2016). No one expected us to go in there and win. And worst memory: I will always remember the state game (vs. Lake Travis, Dec. 17). I felt like we didn't show up ready to play. We were a lot better than how we played that game. I don't think we played that game the way we played all season.
What advice do you have for your former teammates who are now seniors at The Woodlands High School?
Enjoy every moment of it. People told me the same thing when I was going into my senior year, that it goes so fast -- and it really does actually go faster than you think. Once it's gone you can't go back. There's nothing like high school football. Everybody talks about how that's the purest form of football there is.
What's your prediction of how far the Highlanders will go this year?
They're going all the way for the win. That's what I'm hoping for!
Eric Schmid Fast Facts
Led the Woodlands High School to 2016 Class 6A Division I state championship
Threw for 3,629 yards; 46 touchdowns, and only four interceptions as a senior
Fox News Houston-area MVP
Ran a 4.40 40-yard dash at SHSU prospect camp
Son of The Woodlands High School Highlanders Head Coach Mark Schmid